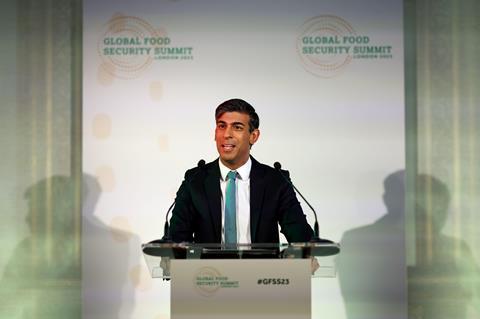 The UK is to launch a science centre where experts will develop climate and disease-resistant crops, Rishi Sunak announced on Monday at the Global Food Security Summit in London.
British scientists will help develop crops including flood-tolerant rice and disease-resistant wheat that can withstand the impacts of climate change and diseases in efforts to prevent food shortages at the new virtual science hub.
The venture – announced at the event hosted alongside Somalia and the UAE, and supported by the Children's Investment Fund Foundation and the Bill & Melinda Gates Foundation – will be led by CGIAR, a global research partnership that brings together international organisations working on food security amid the climate crisis.
The PM's announcement came as he unveiled a new international development white paper on food insecurity at the summit, which set out how the UK will "go beyond giving aid money" and instead work in partnerships with countries to tackle extreme poverty and climate change.
The UK is providing up to £100m in humanitarian funding to countries worst hit by food insecurity, including Ethiopia, Afghanistan and South Sudan, as well as to countries affected by extreme climate effects, like Malawi.
"It can't be right that today in 2023, almost one billion people across the world regularly do not have enough to eat, that millions face hunger and starvation, and over 45 million children under five are suffering acute malnutrition," Sunak told attendees at the high-profile event.
"In a world of abundance, no one should die from lack of food, and no parent should ever have to watch their child starve."
The UK international development white paper announcements include:
The new CGIAR UK Science centre
Up to £100m to respond to food security crises and their impacts in the world's hunger and malnutrition hotspots, including Ethiopia, Sudan, South Sudan, the Sahel, Afghanistan and Malawi. The funds cover programmes that matter for food security, including food, nutrition support and cash support to the most vulnerable households
Up to £100m to build resilience to climate shocks and provide food security for the most vulnerable families in Somalia to avert future humanitarian crises
An extra £16m for the Child Nutrition Fund
The prime minister urged the international community to address the underlying causes of food insecurity, build more resilient food systems and to "act now" to prevent food crises and malnutrition.
Climate change, the long-term impacts of Covid-19, and the effects of geopolitical tensions on global food supply chains are some of the biggest threats to food security currently.
The global grains markets have still not recovered from the crippling impact of Russia's invasion of Ukraine, and climate change continues to affect production of key fruit & veg staples across northern Africa and the Mediterranean – leading to shortages and higher prices.
Sunak said the world needed "a fundamental shift in the way we approach food security" with a focus on long-term solutions to "stop food crises before they start".
He added he was "proud that alongside our partners, the UK is playing a leading role in finding solutions to some of the greatest global challenges of our time".
"The white paper priorities include mobilising international finance, reforming the international system, harnessing innovation, and putting women and girls centre stage, ensuring opportunities for all."
However, the white paper failed to restore the target to spend 0.7% of national income on overseas aid, a figure Sunak himself brought down to 0.5% when he was Chancellor in 2021 due to economic pressures.
But it reiterated the government's commitment to returning to the previous target "once the fiscal situation allows".
❝With your help, we can get the Sustainable Development Goals back on track, deliver a world of Zero Hunger, and transform millions of lives for years to come.❞

Listen to PM @RishiSunak's opening remarks at the Global Food Security Summit ⤵️#GFSS23 pic.twitter.com/AC2VMvu0Io

— Foreign, Commonwealth & Development Office (@FCDOGovUK) November 20, 2023
Newly-appointed foreign secretary David Cameron also spoke at the summit. The former prime minister said food insecurity was a "silent crisis" afflicting the whole globe, and promised to "put development right back at the heart" of the Foreign, Commonwealth & Development Office.
"I promise you this today, the UK will continue to lead efforts like this," Cameron told the gathering.
Sunak and Cameron were joined by the president of Somalia Hassan Sheikh Mohamud, the UAE's minister for climate change & environment Mariam Almheiri, Chris Hohn of CIFF, and International Development Minister Andrew Mitchell, who spearheaded the new white paper.
World Health Organization chief Tedros Adhanom Ghebreyesus and UN deputy secretary-general Amina Mohammed were also present.