'Sin taxes' are under review. Even the funds raised from the sugar levy have been siphoned off, while healthy eating in schools has been marginalised
Childhood obesity is a mammoth problem. The latest figures from The National Child Measurement Programme, from October 2018, shows more than 22% of reception children and a third of year six children are either overweight or obese.
Yet a cloud of uncertainty hangs over the government's obesity strategy, with new prime minister Boris Johnson vowing to review so-called 'sin taxes' last month. Alongside multiple delays to reports and consultations – not least as the food and drink industry kicked back against the programme in the wake of planning for Brexit – there are also concerns that plans on the school food side have been watered down, and funding for school sports siphoned off, and stopped.
So what's going on?
The childhood obesity plan for action was unveiled in 2016, with a vow to halve childhood obesity by 2030 and to significantly reduce the gap in obesity between children from the most and least deprived areas. "No other developed country has [attempted] anything as ambitious" as its "ground-breaking" plan, the government boasted at the time.
With a focus on developing a voluntary programme of reformulation, it was quickly criticised for "watering down" many of the measures laid out under previous PM David Cameron. But the government insisted this was just the beginning.
"These steps will make a real difference to help reverse a problem that has been decades in the making, but we have not ruled out further action if the right results are not seen," a spokesman promised.
The government has since published two further 'chapters'. Chapter two, announced in June 2018, was more legislation-focused, proposing a ban on promotions and pre-watershed advertising for HFSS foods, with chapter three coming out in July 2019, though this was "tucked away" under a new Department of Health green paper.
Yet progress on many of the key proposals has been slow, delayed or placed under review. On the voluntary targets on sugar reduction, a report in 2018 showed the industry had made little progress. The report for 2019, which was due in March, has been delayed until 'late summer'. A similar target proposed for calories has also been delayed until 'later in 2019), and after a report on satfats was finally published on 1 August, targets are unlikely to be drawn up until next year.
It's a similar picture for the pre-9pm watershed advertising ban on HFSS products, and the bans on various promotions that were proposed in 'chapter two'.
And while the government has pushed ahead with a ban on the sale of energy drinks to under-16s in chapter three, the promise of setting new salt reduction targets in 2020 only extends the to-do list.
Public Health England has also been forced to water down plans to measure sugar reduction in the out-of-home sector, due to a lack of data, dealing a major blow to its reformulation programme.
Not surprisingly, this has led to dismay among pressure groups and NGOs. The government is being slow when it comes to taking its obesity policies forward, says Duncan Stephenson, deputy CEO of the Royal Society for Public Health, especially policies on junk food advertising, price and location-based promotions, and mandatory calorie labelling.
"The Soft Drinks Industry Levy has been the real success story so far, with clear evidence it has made an impact – but it is somewhat concerning that there have been noises within government about scrapping the levy. Now more than ever we need bold action and commitment to follow through plans to reduce childhood obesity."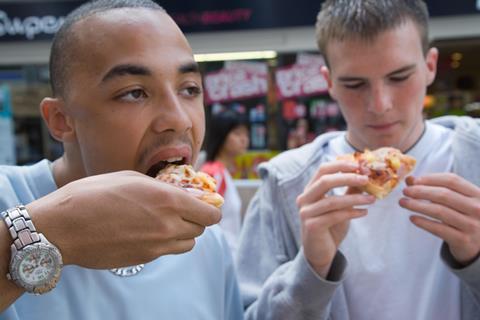 Childhood obesity plan: the story so far
Aug 2016
Soft drinks sugar levy (introduced April 2018)
Voluntary targets for industry to slash sugar on key contributors to children's sugar intake by 20% by 2020, with moves on calories and satfats to follow
June 2018
Government sets out plan to ban bogofs and promotions of unhealthy food at checkouts, front of store and end of aisles
Proposals for 9pm watershed for advertising HFSS products, and similar protections online
July 2019
Ban on sale of energy drinks to under-16s
Promises new salt reduction targets for 2020
What about schools?
The other key plank of the government's childhood obesity policy was to explore the role that schools could play. This included plans outlined in chapter one to set up a 'healthy schools rating scheme', a voluntary initiative for schools that would 'recognise and encourage their contribution to supporting pupil health and wellbeing' by measuring schools on the steps they were taking in four areas: school food standards, food education, physical education and 'active travel' (ie walking or cycling to school).
The programme finally launched in July, with a beta phase for all schools set for the 2019/20 school year. Yet in addition to the slow speed of implementation, there are concerns that the scheme has been undermined by subsequent policy development in a number of areas.
One of the key components of the obesity plan was to increase sports activity in schools, supported by new funds made available through the soft drinks sugar levy.
But it's emerged that only £100m out of the £415m that was raised in year one through the sugar levy has been used on health and wellbeing projects. The rest of the money in the 'healthy pupils capital fund' has been spent on fixing a £300m shortfall in the education budget. What's more, the fund was limited to one-year only, with future revenue from the soft drinks levy expected to be pocketed by the Treasury, prompting outrage among NGOs.
"Many of the proposals in the government's childhood obesity plan require spending, and yet – outrageously – they have made zero commitments to ring-fence the one new source of income they have – the soft drinks levy," says Sustain's Reynolds.
But it's not just funding. Another concern is that the importance of a healthy diet in the schools programme has been marginalised. Indeed, when Ofsted published its new education inspection framework in January 2019, the phrase 'healthy eating' had been taken out of the new framework altogether. It was only "through concerted and unprecedented lobbying by NGOs" that the phrase was reinserted, but even so, says Stephanie Wood, CEO of School Food Matters, the role of food in the new framework is still minimal.
"The government really has shifted focus away from what schools can do to support children and families"
"The government really has shifted focus away from what schools can do to support children and families, when children are at school 190 days [a year]." It's almost as if healthy food is an afterthought, she adds: "If you see any presentations by PHE or the Department of Health & Social Care, or any of the government departments, they go: 'oh yeah, and by the way, schools have to comply with the [school foods] standards'. That is all you ever get.
"It makes no sense" and is "completely at odds" with all of the evidence that is coming out about the causes of obesity, she adds. "It is 80% what goes in your mouth and 20% exercise – you can't outrun a bad diet. So the fact that they have completely focused their attention on physical activity is at odds with the evidence."
Even the healthy school rating scheme, "buried" within the Sport England 'Healthy Lives' survey, has been undermined. It's a grave mistake, she argues. First, there are no points for complying with the school food standards, as this is deemed mandatory. Yet Ofsted inspectors don't even ask for evidence of compliance. "Government should be asking who is looking at school food instead of leaving schools to self-regulate," she says.
The timing is also less than ideal, with the school foods standards (set in 2015) still under review as part of the chapter one proposals, to bring them in line with the Scientific Advisory Committee on Nutrition report. "The sensible thing would have been to launch the ratings scheme at the same time as the new standards," says Wood.
Burden on schools
The reason for this decision, argues the Department for Education, is that it "ensures the scheme is delivered efficiently, builds on existing successful resources for schools, and represents good value for money".
Much of the reluctance to include healthy eating in childhood obesity policy seems to lie in not wanting to place any additional encumbrance on schools.
"We were determined that our scheme should be easy for schools to complete, and complement the many successful existing schemes that operate locally and nationally," says a DfE spokeswoman. "We aimed to minimise any burden on schools who wish to take part in the scheme."
Wood isn't buying it. "Our argument is that they have to fill in a form for absolutely everything else, so why not children's health? Healthy eating is all about attainment, it's all about children being ready to learn. To me it makes no sense not to ask questions about that.
"We're not talking about challenging schools, we're talking about giving them the opportunity to say: 'look at all this effort we're putting into this because we value it, we think it's important, we want our children to be ready to learn'. Right now they have to go to NGOs to get any sort of recognition or certificate, such as the Soil Association's Food for Life scheme or Healthy School London for the work they do to keep their children healthy."
"Ofsted keep coming back with this line: 'Inspectors can't judge the quality of the food on the plate'. We have never asked them to do that."
Ofsted insists healthy eating has been included in its handbook, but says it isn't responsible for checking that children are eating healthily and doesn't monitor this in its inspections. It also concluded, in its July 2018 'obesity, healthy eating and physical activity in primary schools' report, that choices leading to obesity are 'more likely to be happening outside school hours'.
But Wood believes Ofsted is missing the point. "They keep coming back with this line: 'Inspectors can't judge the quality of the food on the plate'. We have never asked them to do that."
Instead, what they can do is ask who within the school has responsibility for the statutory requirement of the school food standards.
"Governors have the responsibility for statutory requirements. I'm a school governor and every time there's an inspection we get asked: 'who leads on the statutory requirement on safeguarding, who leads on pupil premium?', but nobody ever asks [that] in maintained schools."
The responsibility for tackling childhood obesity lies with everyone, argues Bidfood nutritionist Samantha Elliott, and Ofsted cannot just pass the buck. "There's no one simple solution and no quick fix, but we have to work together."
People "want to see the change too", she adds. And this is where public engagement from the government comes in. "It is a real struggle for schools to be able to provide healthy and nutritious food that tastes great, is on a budget, and that children will eat.
"Juggling all of those things is quite a challenge. The government needs to guide schools on how to do this, and I hope part of the update to the school food standards will build on what they've already done."
At the end of May, chief medical officer Professor Sally Davies kicked off a review into what more could be done to meet the government's goal, in the childhood obesity plan, of halving childhood obesity by 2030. A great deal of her focus has been placed on encouraging parents to buy healthier food and drink for their children by making it cheaper and easier to buy, subsidising it through taxes on unhealthy food.
However, Wood suggests Davies needs to pay attention to the calls from think tanks and NGOs pointing to schools needing to play a larger part. "Obesity is everybody's problem," she says. "Absolutely, schools don't offer a silver bullet. But they have a part to play."
Don't pass the buck over turkey twizzlers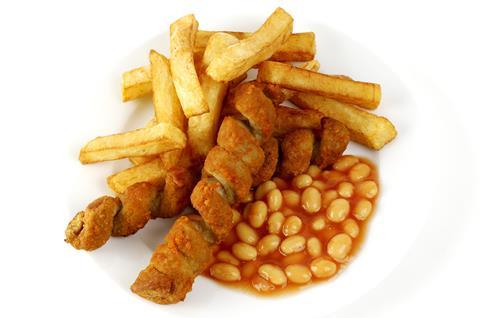 Could 'turkey twizzlers be back on the school menu'? That was the question posed by The Telegraph after the government published new advice in July suggesting schools contact their suppliers to 'seek reassurance on their ability to continue to meet nutritional standards and accommodate special dietary needs'. However, children's health and wellbeing charities have argued that the responsibility rests with the government and it can't just pass the buck.
With three million children dependent on their free school meals as one of their main sources of nutrition, a joint letter from charities and NGOs including Sustain, Children's Food Campaign, Sugar Smart and School Food Matters, to be published in The Sunday Times this weekend, has expressed concern 'about how schools that are already experiencing budget shortages will cope with limited fresh food supplies and price hikes of up to 10%' and the NGOs have called on the government to ring-fence funds to ensure that schools can cope with rises in the cost of school meals, reassure schools what extra funding will be available, and guarantee that the nutritional standards for school meals will not drop, and the wellbeing of schoolchildren will be prioritised.
Can local authority trailblazers fight obesity problem?
Influenced by the success of a radical programme in Amsterdam, the government has launched a 'trailblazer' scheme with five local authorities in the UK to test new measures to combat obesity at local level.
The Dutch capital managed to slash the rate of overweight and obese children by more than 10% after bringing in a scheme in 2012, which included ramping up opportunities for after-school exercise, promoting healthier diets and banning junk food sponsorship.
So in June the government awarded five councils in Bradford, Blackburn/Darwen, Nottinghamshire, Lewisham and Birmingham £100,000 a year, over a three-year period.
They will pilot a range of measures including restricting out-of-home HFSS advertising (a move already controversially pioneered by London Mayor Sadiq Khan), using the planning system to restrict junk food shops near schools and improving accessibility and affordability of healthier foods.
So far the programme includes a scheme by Birmingham City Council to offer health, food, nutrition and physical-activity focused apprenticeships for 15 to 19-year-olds in deprived areas, where obesity rates are the highest.
The council will also create a local metric, the 'Birmingham Basket', to capture local consumer habits.
Bradford will partner with local mosques to support South Asian children – who are at a greater risk of obesity.
Blackburn and Darwen council will work with local restaurants and takeaways to improve menus and incentivise healthier options.
"The government support for these trailblazers is welcome but long overdue," says Ben Reynolds, deputy CEO of food and farming charity Sustain.
But Reynolds is sceptical about the effectiveness of the programme. "Local authorities currently have very limited powers to meaningfully tackle the child obesity crisis, and I suspect these trailblazers are just as likely to show up the limits of these powers as they will pioneer as yet undiscovered ways of tackling the problem.
"Yes, these areas have been given money – very little at that, but no extra powers. It would be more trailblazing if they were trialling derogations of powers from national policy, on issues such as junk food advertising restrictions or licensing of hot food takeaways that if successful could be rolled out in other local areas.
"And what commitments have government made to roll out learning from these trailblazers? To have a meaningful impact they need to commit to rolling out, and crucially funding, any good practice from this across the whole UK."