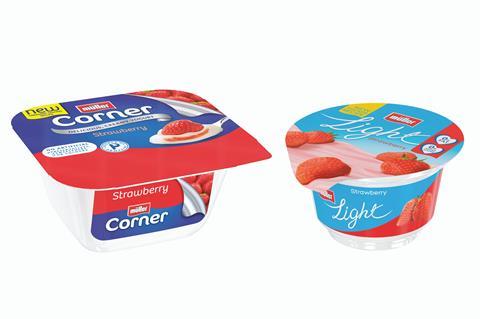 Source: Müller
The new culture was added to Müller's core Light range in May and will be appearing in its Corner range from 24 June
Müller has announced plans to lower sugar levels in its yoghurt products by 25% by next August.
The dairy giant is already more than halfway to this figure, having reduced sugar levels by 13.5% across its yoghurt portfolio since 2015 – equivalent to the removal of 1,759 tonnes of sugar from its product portfolio.
If Müller achieves its goal, it would be well on course to meet Public Health England's voluntary sugar reduction target – a roadmap introduced to lower children's sugar intake by 20% before August 2020.
The move comes after Müller developed a new yoghurt culture which requires less sweetening to make it palatable.
The new culture was added to Müller's core Light range in May and is set to be rolled out in its Corner range from 24 June.
"There is a responsibility which comes with being the eighth most chosen brand in the UK. So, everything we do is geared towards adding taste to life, and inspiring people to become happier and healthier," said Müller Yogurts & Desserts MD Bergen Merey.
"We're the category leader, and the significant challenge we faced was how to reduce sugar, without ever compromising on taste.
"We've now got our best-ever recipes, supported by our biggest-ever marketing campaign, and this category disrupting strategy is how we plan to not only meet Public Health England's voluntary targets, but exceed them."