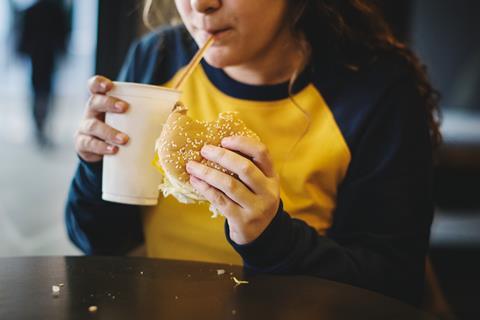 Childhood obesity rates have fallen since last year, new NHS figures show.
According to the government's National Child Measurement Programme (NCMP) for England, obesity prevalence in reception-aged children has dropped from 14.4% in 2020/21 to 10.4% in 2021/22.
Obesity prevalence in year six students has decreased by two percentage points to 23.5%.
However, the NHS report noted this year's sample pool was much larger than last year's due to Covid-19 disruptions. A combined 809,000 children in reception and year six were measured, compared with 157,000 children in the 2020/21 sample.
Obesity and severe obesity prevalence levels in 2021/22 were still higher than those in 2019/20, the NCMP report revealed.
Overall, prevalence of obese or severely obese children in reception was still up from 2019/2020, by 0.5% and 0.4% respectively. Prevalence of obese or severely obese was also up for 10 to 11-year-olds comparatively to 2019/20, by 2.5% and 1.1% respectively.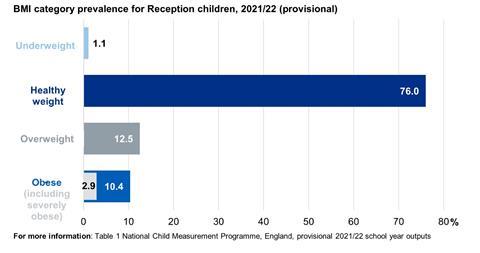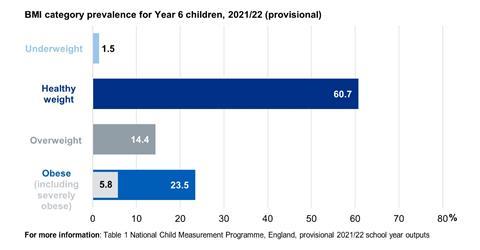 "Kids with obesity are five times more likely to become adults with obesity, with an increased risk of developing Type 2 diabetes, cancer, heart disease, liver disease and so on," said director of public health for Liverpool City council Matthew Ashton.
"Obesity is not good for individuals but it's also not good on a society level. The money that obesity and subsequent health issues cost the NHS could be spent on other things, such as addressing some of the cost of living crisis."
Ashton said obesity was "heavily linked" with inequality as people living in the most deprived areas of the country were less economically able to look after their health and therefore had the worst stats.
The Association of Directors of Public Health (ADPH) said it was "disappointed" by the government's decision to delay imposing restrictions on advertising and multibuy deals for HFSS foods.
It said that local authorities needed the support of the national government to reduce obesity at a local level, and that last month's food strategy white paper was a "missed opportunity" to address some of those issues.
The Local Government Association (LGA), which last month warned that local authorities were set to miss their targets to halve childhood obesity by 2030 without drastic action, said the new NHS figures showed there was "still much to do" to tackle the problem.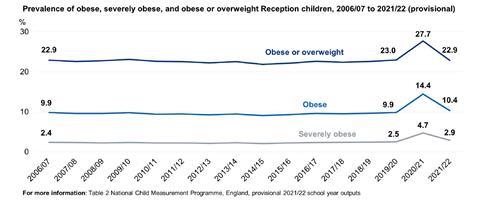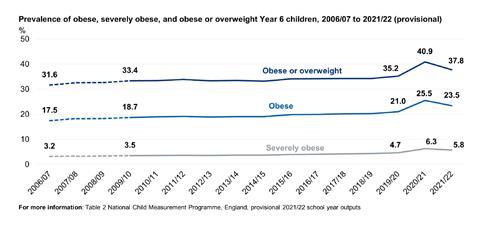 "Councils are working to support children and families to live healthy lives and reduce pressure on other public services, from health visitors supporting new parents to weight management services and subsidised leisure facilities, but more needs to be done, especially to reduce the gap between the most and least deprived," said chairman of the LGA's community wellbeing board, Councillor David Fothergill.
The current NCMP figures are provisional findings based on children that were measured between September 2021 and May 2022. Final data for the full 2021/22 school year is expected to be published in November this year.