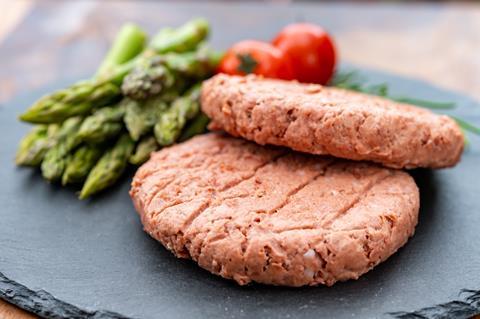 Health campaigners have mounted an attack on plant-based meat products for containing high levels of salt.
Campaign group Action on Salt has called for manufacturers and government to act after conducting research which suggested three in four plant-based meat products contained "unnecessarily high" levels of salt, according to new research.
A report, titled 'Nutritional quality of plant-based meat products available in the UK: a cross-sectional survey', was published in the Nutrients journal today (25 November).
The research, which was led by Queen Mary University and co-authored by Action on Salt, analysed 207 plant-based meat products against 226 meat products and found 75% of the plant-based products it surveyed did not meet the government's salt reduction targets.
That being said, plant-based products still offered "significantly fewer calories, total and saturated fat and more fibre than meat equivalents", said Roberta Alessandrini, researcher in public health nutrition, Queen Mary University of London and lead author of the study.
However "our data shows salt levels in these products are unnecessarily high. Manufacturers have a vital role to play in providing consumers with products that are not only better for the planet and the animals but are 100% healthy and low in salt."
Only two of the plant-based products surveyed would be considered low in salt with a green label on front of pack, compared to 45 meat products, the report said.
It argued plant-based foods often had a perceived "health halo", meaning a product was "automatically assumed to be healthy simply because it is vegetarian or vegan" – all the while providing varying levels of salt content.
It highlighted a range of products to make its point, including M&S's Plant Kitchen No Chicken Kievs, Birds Eyes Green Cuisine Meat Free Burgers, Richmond's Meat Free No Beef Mince and Quorn's Best of British Sausages.
It also claimed that Linda McCartney's Vegetarian Meatballs contained 1.7g per 100g. However, when approached by The Grocer for comment, the brand claimed this was a "factual inaccuracy".
"The salt content within Linda McCartney's Vegetarian Meatballs is 0.85g of salt per 100g - not 1.7g per 100g - as stated in the Actions on Salt report" and was therefore "below the maximum salt level target of 1.19g per 100g as set out by the government", said marketing director Ruth Snowdon Gough.
The product had been reformulated in September 2021 but continued to use old packaging in order to "minimise environmental impact", Gough added.
As a result the nutritional information had "been taken from old packaging that is still present in store, despite the product recipe being updated", she explained.
A spokesman for Birds Eye, meanwhile, said the brand had "an active salt reduction programme in place aligned to the Department of Health 2024 targets to reduce salt on any individual product – in this case the Green Cuisine Burger – that does not currently meet our own strict salt targets."
The Grocer has also approached M&S, Richmond and Quorn for comment.
Action on Salt has called on the government to "reinstate a coherent salt reduction policy by mandating the salt targets so all food manufacturers have to comply", giving them "a level playing field".
Reducing salt was "clearly possible", said Action on Salt campaign manager Sonia Pombo. "It's time these companies acted more responsibly for the sake of our health".
It comes as Action on Salt's sister group Action on Sugar recently criticised a host of big fmcg brands for using what it argued were "misleading" health claims used on products marketed towards teens and babies.
Earlier this month, the charity called for the removal of "healthy-sounding" claims on packs of a range of babyfood brands which would receive a red label for sugars under the traffic light system, zeroing in on Heinz and Organi