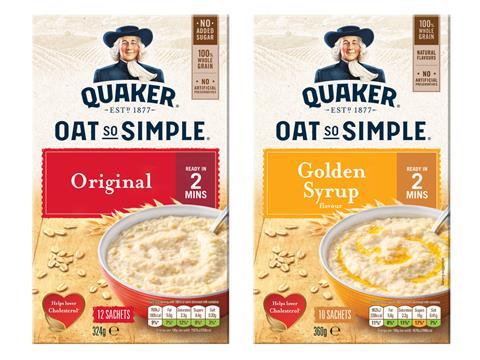 Quaker has reformulated its hot cereal portfolio, removing more than 175,000kg of sugar in a bid to provide healthier breakfast choices.

Marking a "huge step forward", the reformulation sees the PepsiCo brand's rolled porridge oats and Oat So Simple sachets and pots cutting calories by more than 700 million per year.

All added sugar has been removed, leaving only naturally occurring sugars from oats and milk powder - though in some instances "a natural flavouring has been added to enhance the sweetness".

This means sugar content of the Oat So Simple Original pot has fallen by 29%, from 21.2g of sugar per 100g to 15g, while the Oat So Simple Golden Syrup sachet has been cut from 21.5g per 100g to 19g - a 12% reduction.
"We are extremely proud to be unveiling our new and improved Quaker recipe," said senior brand manager Steph Okell. "It contains less sugar but still tastes great."

The overhaul comes as part of PepsiCo's "ongoing commitment to offer consumers better-for-you options". Last October, the supplier announced its 2025 Sustainability Agenda, which includes the pledge to "meet changing consumer needs by reducing added sugars, saturated fat and sodium levels" across its global portfolio.

Rolling out from this week, the reformulated Quaker products come in refreshed packs - plans for which The Grocer revealed in May.

The biggest change is to the logo: it has been updated for the first time in six years, with the red background axed and the Quaker Man character given a gentle makeover.

Now was "the perfect time" for the new look, Okell said. "Our campaign later this year will help keep the brand front of mind with shoppers, ultimately leading to increased sales for retailers."