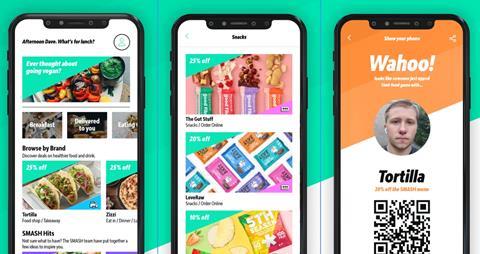 An app that provides young people with money-off vouchers and promo codes on hundreds of healthy food products has launched in the UK.
Discounts on more than 300 products from 55 food brands are currently available on the Smash app, which is available exclusively to 13 to 24-year-olds.
Participating brands include Graze, Whitworths, Ugly Drinks, This, Meatless Farm and Deliciously Ella.
To access the app, users must take a selfie to pass a facial age scan, which uses technology powered by Yoti. They can then scan a curated menu of food options and see what savings can be made at nearby participating retailers. The menu can be filtered by price, retailer and any dietary requirements.
To redeem offers in grocery retailers, Smash has integrated with voucher provider Valassis, which allows users to print off vouchers for partner brands to "use as cash in major grocery stores". For online purchases, promo codes are sent.
In participating restaurants including Zizzi, Yo Sushi and Tortilla, users present a QR code at the point of paying the bill, which is scanned by the cashier to apply the discount.
The healthiness of the products on the app are based on a framework developed by nutritionist Jenny Rosborough – head of nutrition for Jamie Oliver's companies – and "pegs to the most relevant PHE framework for the eating occasion" Smash CEO Chris Holmes said.
The framework is based on energy density caps, with upper limits on nutrients that contribute towards poor health when consumed in excess – but recognises "there is no one-size-fits-all measure that can be relevant to every eating occasion".
"It isn't solely based on the government's nutrient profile model because it needs to reflect the nutrition information available to us – per 100g data is very rarely available for the eating-out sector – and aims to take a pragmatic approach to promoting the 'better' options in each setting," Holmes explained.
"At Smash, we don't like to label food 'good' or 'bad'. There's a place for all foods in our diets; overall healthiness depends on how often and how much," he added.
Smash – which stands for Save Money and Stay Healthy – was founded last year by Holmes, a former director at KFC, where he set up the Colonel's Club loyalty scheme and restaurant chain Ask Italian, where he was MD.
"Young people want healthier, more balanced food, but they can't pick these options if they are out of reach," Holmes said. "We need to make it easier for young people to find better food that is just as affordable and desirable to eat as chocolate and chips – and this is where Smash helps.
"The fact over 50 brands have come together in such a short space of time to support our mission fills me with optimism that by working together to shine a light on better food options, we can help all our young adults to live healthier lives," he added.
The app – which has been developed with the support of youth advisors from Jamie Oliver's Bite Back 2030 – secured £1m in funding for the launch in September and the financial backing of Impact on Urban Health. Paul Lindley, founder of Ella's Kitchen, serves as chairman.
"Advertising for high fat, salt and sugar items are taking centre stage," said Sarah Hickey, programme director for childhood obesity at Impact on Urban Health. "This has a negative impact on young people's diets, and long-term health. We're excited to back a mission-led business that can help disrupt this status quo."
Latest figures from the NHS' National Child Measurement Programme data finds that one in three children are overweight or obese by the time they leave primary school. Childhood obesity rates are the highest in the most deprived 10% of the population, more than twice that of the least deprived 10%.
Around one in two young people are obese or overweight by the time they reach 24 years old.
"It's about inspiring young people to make small healthy changes," said Holmes. "With young people eating out or snacking on the go up five times a week, we have over 2.2 billion healthier eating opportunities to inspire every day. Together with our partners, we hope to make foods more accessible, affordable and engaging whilst showing food brands that better food can be better business."
Participating brands include: Zizzi, Wahaca, Yo Sushi, Tortilla, Graze, Whitworths, Chop'd, The Coconut Collaborative, The Gut Stuff, Moma, Ugly Drinks, Genie Drinks, Grubby, Noble Foods (The Happy Egg Co), Gold Standard Nutrition, Deliciously Ella, Podberry Pea Snacks, Liobites, Plant Pops, Loveau, Kate Percy's, Stacks of Goodness, 5th Season Fruit, Brave Foods, Hullabaloo, Love Raw, Rootles, Better Nature, Share Fresh, ChicP, Bepps, Sweetpea Pantry, Sproud, Vedge Snacks, Pikt Fresh, Planty, Eatlean, Waterbomb, Snackzilla, Vithit, Boka Food, Chika's, Island Poke, Pep Kitchen, Simply Cook, Explore Cuisine, Tastily, Evolved Snacks, Bay's Kitchen, The Sweetpea Pantry, Human Foods, Seggiano, Meatless Farm, Jim Jams, Pastaio, Zabardast and This.