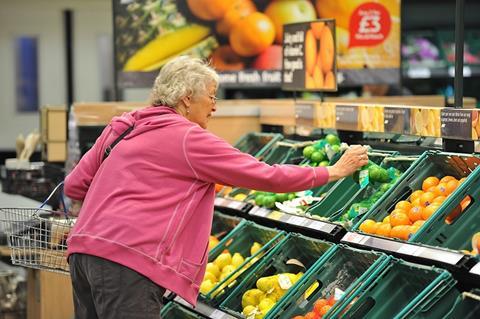 Tesco has launched a new campaign to nudge consumers towards "healthy zones" in its stores.
The retailer said the Better Baskets campaign would signpost foods high in fibre, plant-based options, low & no alcohol, snacks under 100 calories and products that were in reusable packaging.
Tesco said it wanted to ensure customers facing the cost of living crisis did not have to pay more for buying healthy food, with its research showing 86% wanted to eat more healthily and 77% wanted the help of supermarkets to achieve it. 
The supermarket is promising most products highlighted as part of the Better Baskets promotion will be at Clubcard Prices, low everyday prices or included in its Aldi Price Match.
The new initiative, which will last until the end of May, will once again see Tesco join forces with celebrity chef Jamie Oliver, who has created a series of new veg recipes.

The partnership comes after Oliver, the former face of Sainsbury's, signed up with Tesco in 2018 to front its 'Helpful Little Swaps' campaign.
Last year he launched online training in conjunction with Tesco for community cooks in lockdown to help feed vulnerable groups impacted by the pandemic.
Tesco's latest move, which will be backed by a major print and outdoor advertising campaign, as well as social media and online, comes as retailers prepare for the October introduction of a ban on HFSS promotions in prominent locations, despite ministers shelving a ban on multibuy promotions last week.
"We understand customers want to make better choices but not pay more for it. Our Better Baskets campaign means there is no compromise. Right now, every little helps," said Tesco chief customer officer Alessandra Bellini.