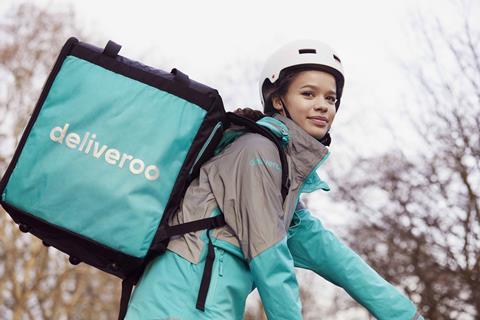 Deliveroo will enrol 15,000 new riders by the end of this year, more than doubling the number of couriers it works with since the start of 2020.
The food delivery service – which has signed several grocery partnerships this year – has already enrolled 15,000 riders during the course of the pandemic, representing a 286% rise year on year. Some 2,000 are currently being onboarded.
By the year's end more than 50,000 riders will work with Deliveroo, the company claimed.
"Riders are heroes and we are so proud of the vital role that they are carrying out in their local communities during the pandemic. It is fantastic that we can now recruit even more riders and will create a record 15,000 new opportunities by the end of the year," said CEO Will Shu.
"With a record number of riders and restaurant partners on the platform, we can now reach even more amazing customers across the UK, delivering the food that people need and want," he added.
Deliveroo said on average riders earn "well above" the national minimum wage. The company said it would only be working with new riders in "specific parts of the country where there is sufficient customer demand to ensure earning levels stay high".
Since March, Deliveroo has enlisted 11,500 new restaurant partners, many seeking an alternate sales channel when restaurants were required to close their doors to customers during lockdown.
"This rapid growth in on-demand work is spread right across the UK and underlines the vital role that Deliveroo is playing in the pandemic to provide business opportunities for restaurants, bring people food during lockdowns and to provide work opportunities for riders," Deliveroo said.
In addition to restaurants joining the platform, Deliveroo has this year signed up Aldi, Morrisons and McColl's and extended its Co-op partnership. Waitrose last month commenced a 12-week trial with Deliveroo to give half a million households access to rapidly delivered own-label and branded groceries.
The supermarket said that, if successful, the trial would be extended into more locations "before looking at further opportunities to roll out on a larger scale".
M&S began working with Deliveroo in April, with 120 M&S franchise stores at BP petrol stations offering home deliveries. The partnership has since been terminated, M&S's focus having shifted to its joint venture with Ocado.
Majestic Wine, Booths, Patridges, Holland and Barrett, and Lloyds Pharmacy also work with Deliveroo in the UK.
The Competition and Markets Authority in August approved Amazon's 16% stake in the courier company.