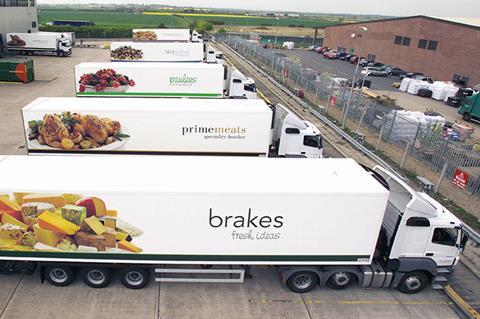 The changes will result in two depot closures and head office cuts

The depot closures are understood to leave more than 200 staff facing redundancy
Hundreds of jobs are at risk at Brakes as the foodservice giant launches a major coronavirus recovery plan.
In a note from CEO Hugo Mahoney seen by The Grocer, staff were told the changes, which would result in two depot closures and head office cuts, were needed in order to "right-size Brakes for a smaller, more competitive market".
As many as 70 workers at Brakes' head office at Eureka Business Park in Ashford have been entered into a 45-day consultation period.
Focus House, its 'second base' in the town, is earmarked for closure along with another contact centre, Dalziel House in Scotland, which is likely to result in further job losses.
The wholesaler's Thorpe and Coventry depots face permanent closure under the recovery proposals, having been shut for business since April.
The depot closures are understood to leave more than 200 staff facing redundancy.
"It is saddening and troubling times for the industry, and we need to be realistic about both the short and long terms impacts," said Mahoney.
"While the coronavirus crisis and downturn has caused us to act now, our goal has been and remains to be a strong, resilient partner to our customers and we have therefore proposed a number of changes to ensure that we can continue to be able to deliver a service that meets their current and future needs.
"This builds upon the significant investments we are making in our service network, systems and processes with the support of our parent company Sysco."
In response to the crisis, Brakes has launched a number of initiatives aimed at mitigating the impact of the hospitality shutdown. These have included delivery of government care packages to the shielded vulnerable, suppling to retail and convenience chains, and new direct-to-consumer services. However, Mahoney said, these were "not a replacement for the business lost by the closure of the hospitality sector and the assumed recovery period".
"We know that this will be very disappointing news for the colleagues who are affected, and we will do our utmost to support them through this difficult time.
"None of these changes will adversely affect our service to our customers, and we are developing a package of support to ensure our customers can be up and trading quickly and efficiently."
The announcement comes in a week that is likely to see mass redundancy consultations triggered as companies look to meet the 45-day redundancy consultation period ahead of 1 August, the date when the government will begin to taper its Coronavirus Job Retention Scheme, which will see employees begin to pay National Insurance and pensions contributions for furloughed staff.