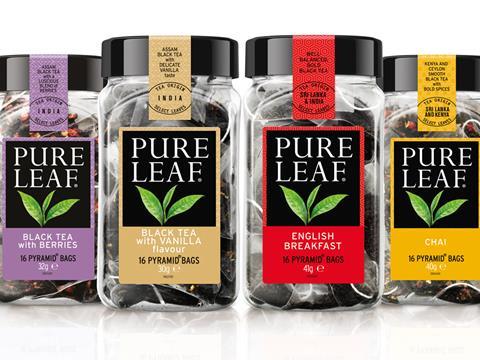 Unilever says it is pleased with Pure Leaf's first-year performance, despite sales of just £357k in the mults over the past year and a raft of delistings in recent months.
In the 52 weeks to 3 March 2018, the posh tea brand's value in grocery amounted to £357,370, with sales reaching a month-on-month peak of £72,500 in the four weeks to 6 January 2018 [IRI].
This high was followed by an 18% plunge the following month as Tesco and Asda each delisted all their Pure Leaf SKUs. Month-on-month value sales slumped again in March to £42,992.
The brand remains on shelf at Sainsbury's and Morrisons, and is still available through an array of other channels, according to Unilever.
"We've been looking at where Pure Leaf will have its greatest appeal," said a spokeswoman for the supplier. "As part of this, we have offered these products across a wide range of customers. Pure Leaf is a delicious-tasting tea, using only the finest ingredients, and continues to do well in a broad range of channels."
Pure Leaf was originally a US launch as part of the Pepsi-Lipton joint venture between PepsiCo and Unilever. It made its UK debut in March 2017 with 10 premium SKUs of bagged and loose leaf tea – mostly black variants.
Sourced from certified Rainforest Alliance estates and packed in a transparent jar, the lineup came backed by a £2m investment shortly after the UK tea category had suffered its fifth consecutive year of value decline. By the end of 2017, Pure Leaf had expanded to 16 variants, having added six loose leaf lines backed by a £3m online push.
Pure Leaf was one of the beneficiaries of Tesco's tea overhaul last summer, gaining shelf space as the retailer cut PG Tips and Typhoo SKUs to prioritise healthier and more premium options. However, the listing proved to be short-lived.