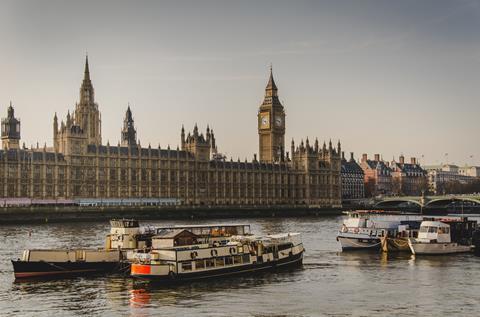 In an interview this week with Nestlé veteran Chris Tyas, whose brilliant leadership of the Food Resilience Industry Forum earns him a place on our Whitehall Power List, he admits there were many "dark days" as the so-called 'war room' sought to avert food shortages on the shelves and chaos in the supply chain in the early stages of the coronavirus pandemic. And what really comes across in this glimpse behind the scenes is his pride in the industry's united response, proving doubters wrong.
Now the industry must do it all again. And the challenges stacking up, if it's possible, could be even greater than when Tyas first answered the call in March.
Ports across the UK and Europe are in disarray as higher than normal Christmas demand, Covid-related disruption to shipping container movements, extra Covid safety precautions and other bureaucratic problems combine with Brexit-based stockpiling. That's chaos on goods from outside the EU. And before we even know or act on the outcome of the PM's last-ditch Brexit negotiations, which even with a deal will result in extra costs and paperwork, and at worst, will throw supply chains into total turmoil in a matter of days. Meanwhile, supermarkets are involved in a game of brinkmanship of their own with suppliers over Incoterms.
As a result, dark clouds are well and truly on the horizon once more, and set to test again the ability of retailers and suppliers to work together with ministers to prevent today's worst-case scenarios becoming tomorrow's grim reality.
Which is why, while it's only right that some supermarkets are giving their frontline heroes an extra day off, we should raise a glass these next few days to Tyas and other members of the war room, who will work over Christmas and the new year to ensure the industry is as well prepared as it can possibly be.
True, some breakthroughs have averted immediate supply chain pinch points, including a compromise on the arrangements for the Northern Ireland border, but much of it amounts to kicking the can down the track, including the government's three-month 'grace period' for the region's supermarkets.
While the added time is welcome for those who get it, piecemeal exemptions aren't going to cut it on this one. Nor will the latest £400m announced this week, understood to be going towards the digitisation of export health certificates for animal and plant products.
Staggering the introduction of checks next year has failed to alleviate fears of businesses who are bereft of definitive answers on what the border will look like in the long term. And who can blame them? As it stands, it is hard to see anything on the cards that will turn the tidal wave of bureaucracy set for the Irish Sea.
The best that can now be done is an EU trade deal, without which possible tariffs for some and future regulatory divergence for others will leave businesses in Northern Ireland with myriad problems. As The Grocer goes to print a deal still hangs in the balance. By Monday we should know. The government's last-minute negotiating has already filled many businesses' Christmas break with planning headaches – so the least they can do, if they're as smart as they are powerful, is provide the gift of a deal.