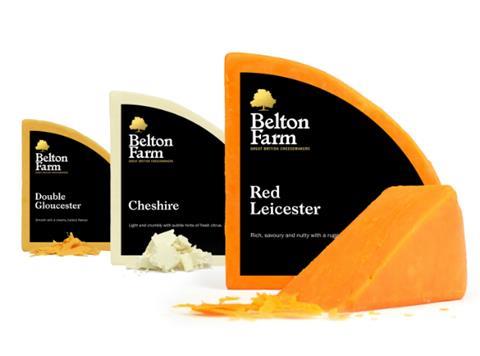 Shropshire-based cheesemaker Belton Cheese has rebranded as Belton Farm in a bid to gain more supermarket and export listings.

Belton has also undergone a packaging refresh, with a new, more contemporary logo, and 'Great British Cheesemakers' strapline, designed to play on the brand's provenance and quality.

Belton currently supplies deli counter cheese to Tesco, Sainsbury's the Co-op and Booths, in addition to Tesco Finest Red Leicester.
The relaunch would help it make further inroads into the mults and build on the supplier's recent success in export markets across the US, Canada, South Africa, Australia and Europe, said MD Justin Beckett.

"It will give us greater shelf presence and we believe it will resonate strongly with both our existing consumers and make us more relevant and attractive to a new generation of discerning cheese buyers," he added.

"Cheese has been made here on the farm by the Beckett family for nearly 100 years and we are immensely proud to be carrying on this tradition. The farm has become an iconic symbol of the fact that as cheesemakers we are grounded in both our heritage and our rural surroundings, and as such our move to being called 'Belton Farm' seems a natural development for the business."