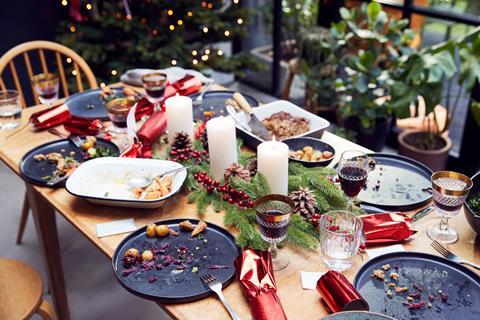 It's festive advert season. How many times have you seen Morrisons' 'Farmer Christmas' or Tesco's double-vaxxed Santa already? If you're keen for seasonal cheer, you may get a warm glow from all the ho ho ho. But wall-to-wall advertising can do more harm than good. Does it matter if festive ads encourage excess?
Some sustainability campaigners will target the festive period and legitimately complain about excess food waste. Lots of seasonal ads are about decadent feasts, but they are also about family and friends coming together, which is really important, particularly these days.
There's still time to be sensible and avoid unnecessary food waste in December, but let's avoid accusations of 'blah' humbug, as Greta Thunberg might say, by pushing the eco message only during the festive season. My plea is to normalise everyday sustainable behaviours, rather than focus sustainability efforts on major festive events in the calendar.
Some in the advertising industry may still play the 'don't shoot the messenger' card when it comes to environmental and social harm, claiming they're beholden to clients, including major food brands. In 2021, with sustainability issues increasingly central, such an argument doesn't wash.
We know adverts can influence behaviours, but have we all stopped to think about the wider impacts of advertising? Take its contribution to global heating. Advertising added an extra 28% to the annual carbon footprint of every single person in the UK in 2019, according to Purpose Disruptors. Its Advertised Emissions report, launched at COP26, highlights what greenhouse gas emissions result from uplifts in sales generated by advertising.
Read more:
Advertising – done differently – could promote sustainable lifestyles and help reduce greenhouse gas emissions. Planned government restrictions on advertising are a step in the right direction, but change is slow and incremental. I expect more curbs on unhealthy food and drink advertising in future, and promotion of ultra-processed food products to come under greater scrutiny. We know already it's not a level playing field when it comes to advertising spend. Just 1.9% of food and soft drink advertising goes towards promoting veg, according to Peas Please. Ramping up the proportion of advertising promoting vegetables – and fruit, wholegrains, nuts, pulses and the like – would be very welcome.
It's not only what's being advertised that's a problem. The sheer amount and variety of messaging telling us to consume, consume, consume is hugely damaging. We are bombarded, every day, everywhere we look, with adverts, hashtags, videos and logos.
We are more than just consumers though. The New Citizenship Project has inspired the Food Ethics Council's work promoting the concept of food citizenship to replace consumerism. Changing the volume, type and messaging of the advertising we are subjected to is a necessary and important shift.
The trade press has an important role too. I was disappointed to read an article in The Grocer about how brands can navigate the junk food advertising ban. The food sector doesn't do itself any favours by just seeking to circumnavigate the rules.
So I don't mind a few festive TV ads. But we need fewer ads all year round, particularly those promoting junk food, across all advertising media. The food and drink sector can lead the way in responsible advertising that delivers positive health, social and environmental impacts. Sustainability doesn't need to be about making sacrifices. Food that is good for people, planet and animals should be something we can all celebrate.