The pandemic has kept sports fans away from stadia – but fresh marketing opportunities have emerged as more people watch from home and embrace innovative technology. So how is the world of sports sponsorship likely to change for fmcg brands?
Sport is back. Sort of. With countless competitions cancelled or taking place behind closed doors over the past year, this summer could see fans pitch, court and track-side again at last.
But the events won't be quite the same. Although the Tokyo Olympics is still due to start in July, it will be without foreign fans. Euro 2020 is due to kick off in June, though host cities are yet to decide on the number of in-stadium spectators that can be considered safe, which certainly won't be at capacity levels. In the UK, nine sport governing bodies – including those for football, Formula 1, rugby, tennis and cricket – are urging the government to allow "more fans safely back to their sport as quickly as possible" with the rollout of its hinted 'Covid passport' scheme.
And just as live sport has changed, possibly for the long term, so has sports sponsorship. The pandemic has put huge pressure on sporting bodies, as well as most of their sponsors.
"Professional sports have been tackling enormous commercial challenges," says Andrew Brember, commercial director for sport at Kantar. "Even for those that have been able to stage events, the absence of fans in stadiums has cut off a vital income source for sports like football and rugby, and that has meant an increased reliance on sponsorship revenue. At the same time, the budgets of many companies involved in sponsorship have been under pressure."
As a result, March 2020 saw a 40% year-on-year drop in the number of sponsorship deals, according to Sportcal, a GlobalData company. In 2019 there were a total of 4,709 deals globally, worth $22bn. In 2020 that count fell to 3,297 deals, worth $12.9bn.
"Once the uncertainty came around how sport could restart, we saw a pause in sponsorships," says Conrad Wiacek, head of sport analysis at GlobalData. "Brands weren't willing to commit. Sports sponsorship is a marketing spend – in a crisis, marketing budget tends to be the first thing that suffers. It's an easy save. It makes the overall pot of money available to sport much smaller."
From the grassroots level to the top tier of professional sport "there's no doubt it has been an extremely challenging time" Brember adds, "and it doesn't look like things will return to the way they were any time soon".
But fmcg brands have had a prosperous pandemic compared with their sports sponsorship-loving peers in apparel and travel. And that's given many their first opportunity to get involved. Furthermore, brands have been able to demand more flexibility in their sponsorship deals. According to an MKTG survey eight out of 10 brands agree with the statement: "The fixed sponsorship package is dead."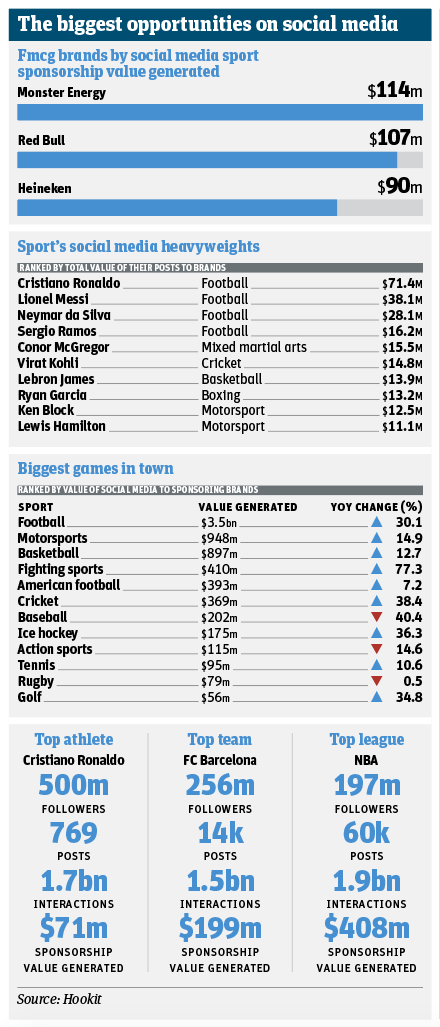 Hygiene partnership
Take Dettol. In February, it signed a contract with the English Football Association (FA) to become the 'Official Hygiene Partner' of the governing body. But the brand is not simply after fan eyeballs. It is pushing its purpose, too. Dettol will work with staff at Wembley Stadium to develop cleaning protocols using its products, with the aim of supporting the return of spectators to matches.
"Whether it's fans eagerly anticipating a return to watching England play live at Wembley or players at all levels, our goal is to provide the football community with simple and effective hygiene routines when they enjoy the game they love," says Susan Egstrand, regional general manager of Northern Europe at Dettol owner Reckitt Benckiser.
It's a savvy move that taps into every sports fan's yearning to return to stadiums. "Health and safety considerations will inherently shape the ability to return to live sporting events – according to our research, more than 75% of UK sports fans believe measures like mask requirements, hand sanitising stations, employee face shields, and others should be part of the new protocols in the return," says Sampson Yimer, VP of sponsorship consulting at agency Momentum Worldwide. "Peace of mind will be at a premium for UK sports fans for the foreseeable future."
Hygiene brands aren't the only ones finding a fit in this new environment. Food delivery businesses are hoping to turn matches into a meal ordering occasion. Just Eat last month beefed up its existing deal with UEFA to cover 11 different competitions from 2021 until 2024. "Our strategy is to pair our premium household brands with the most premium sports events on the planet," CEO and founder Jitse Groen said at the time of the move, which sees Just Eat replace McDonald's. Crucially, it allows the brand to compete in the same space as Deliveroo, which late last year inked a deal with the FA to become partner and sleeve sponsor of England teams and the Emirates FA Cup.
These new recruits represent a sea change in sponsorship. "We are seeing new sectors and new brands emerging as sponsors," says Wiacek. "Cryptocurrencies, apps like car-buying tool Cinch. They've come in quite heavily. But for sporting bodies, if you've got an fmcg partner it's good news because you won't see those guys walking away."
They may not walk away, but some had to quickly reassess their tactics in light of Covid. Coca Cola, for example, went on a portfolio-wide advertising pause at the start of the pandemic, though it had lifted by the time the 2020/21 Premier League season got underway in August. Some level of activity was vital.
"Consumers simply expect to see Coca-Cola playing its part when the football is on – and this last year has been no different," explains Simon Harrison, VP of commercial development at CCEP. "With fans largely confined to their homes, we had to take our brand to them and find new ways to enhance the matchday experience."
To that end, it rolled out on-pack promotional activity with a 'Make Your Home the Home End' marketing campaign, which saw league stars Marcus Rashford, Harry Kane and Alex Oxlade-Chamberlain appear unexpectedly in fans' homes in a series of light-hearted films. The campaign ran across radio, digital channels and out of home.
The drinks giant expects to take a similar approach this year. "While everyone is looking forward to a strong and safe reopening for the hospitality sector and to the return of open stadia, we expect many fans to watch UEFA Euro 2020 from their homes this summer," Harrison says.
Indeed, a survey this month by Oracle found less than half of UK consumers plan to return to events in the first four months after stadiums reopen in May. A quarter won't this year, though 86% miss doing so.
For Coca-Cola, that doesn't mean a missed opportunity – just a different one. "Because many will be in smaller groups than usual, viewing figures will be higher and more individual shoppers will be choosing soft drinks for the occasion. We expect this to convert into more than 140 million incremental opportunities in retail across Europe," says Harrison.
Messi Messages: the power and potential of deepfakes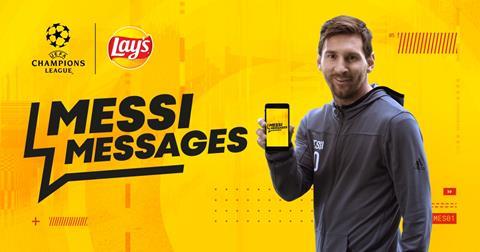 Powerful artificial intelligence can be applied to video footage of celebrities and politicians, so that they can convincingly appear to say practically anything. It's scary stuff.
Known as deepfakes, the use of the technology has been tipped to wreak havoc on society – just imagine the impact a realistic video of Boris Johnson declaring war on Russia could have (or vice versa) for example.
However, they are also proving a useful tool in sports marketing. Last month, crisp brand Lay's worked with Barcelona star Lionel Messi, using deepfake technology so people could send personalised messages to friends, which appeared to be spoken by the footballer himself (in a choice of 10 languages).
"It's such a clever and important way of basically sweating the asset – the star – you pay for as much as possible," explains Rosh Singh, EMEA MD of Unit9, which created the experience.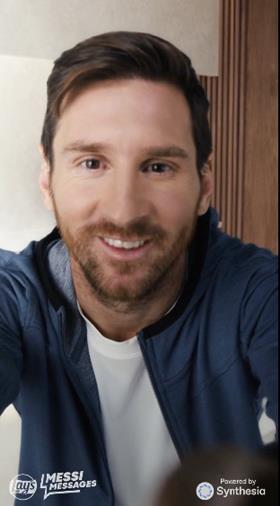 "We got Messi in the studio for a super-quick shoot – around 30 minutes – to capture basic phrases and simple movements. The rest is down to deepfake. And we've got almost an infinite amount of content."
"Using deep-faked digital avatars dramatically cuts down the amount of studio time that's needed to film a busy celebrity ambassador, which is not only a scheduling and budgeting benefit, but also a bonus at the moment when in-person contact should be minimised."
There is potential for deepfakes to go even further, with the creation of virtual athletes that can star in adverts and talk directly to fans 'in person' Singh says.
For Messi Messages, users type in their friend's name – matched against an approved list – and pick from a drop-down of things Messi can say to them. It generated 38 million hits in the first 24 hours. And after Messi shared the experience with his 192 million-plus Instagram followers, millions more Messi Messages popped up across every social media platform and in group chats across the world.
But such a powerful tool as deepfake requires great responsibility. Keeping things "within the guard rails" is vital, Singh adds.
"From a tech point of view we could let it go anywhere, but from a brand safety for Lay's and Messi star power point of view we had to keep control. We couldn't let a few bad actors make what is a phenomenally amazing experience into something disgusting. Because you can always rely on people to take it to the base level."
Valuable deals
Certain forms of activity are more vulnerable to the impact of Covid, of course. Some are just as valuable as ever, like on-shirt sponsorship. "That's massive for visibility, it goes beyond what you see on TV," says Stuart Mackenzie, head of communications at Tennent's Lager, sponsor of the Scotland national teams for Euro 2020. "It's pictures in newspapers, interviews… you've got people walking down the street with their brand on their chest."
Others work less well. Pitch-side boards simply "aren't as valuable as they were at point of purchase" he adds. "So you need to work that sponsorship a bit harder. You still need to get cut-through."
In light of that, teams, sporting organisations and rights holders have been working hard to offer brands more bang for their buck. "They have worked hard to really understand how they can evolve and work innovatively to offer their partners enhanced rights and assets," explains Kate Hopper, director of food and drink at Hill+Knowlton Strategies.
For example, football teams like Manchester City and Tottenham Hotspur have allowed documentary makers into their changing rooms and training grounds on the Amazon Prime All or Nothing series, raising the profile of each – while giving more coverage to team sponsors.
Exclusive content such as this has been a key draw. It is now one of the most demanded assets of sport sponsorship deals – of most importance to 83% of brands alongside access to sporting talent, according to the MKTG survey.
"Sports teams and organisations have had to be more creative about what they can offer, and more astute in making use of their most valuable asset: their fans," says Kantar's Brember. "Sport's ability to engage fans, whether through social media or sharing exclusive content via direct to customer channels, is one of their most powerful tools."
Direct-to-fan experiences
One such powerful example is the Virtual Paddock Club launched by Formula 1 last year, which gave fans access to behind-the-scenes action from races via Zoom. That set the stage for Zoom to become an official sponsor of the 2021 FIA Formula One World Championship in March. According to Zoom CMO Janine Pelosi, it will offer an "engaging VIP sports experience despite the limitations set by the global pandemic".
More direct-to-fan offerings like Zoom's are expected to follow. "Digital capabilities will continue to evolve and can compensate for areas that Covid-19 may have curtailed," Brember adds. "The idea of virtual viewing experiences didn't appeal to some a year ago but now represent a much bigger sponsorship opportunity, recreating some of the excitement of attending live sport for fans, while mitigating health risks and the impact of reduced capacity."
New ways for fans to access live events are also coming. The NBA introduced a direct-to-consumer subscription service for basketball fans in late 2019, called NBA TV. It offers streaming of all live games plus enhanced viewing options for many, like additional camera angles and live in-game chats with basketball influencers. The Premier League is expected to do something similar next year. While that provides additional assets for brands, the future is giving viewers the chance to get involved – putting questions to players or sharing their punditry.
Taking the technology on a few steps, "live and virtual will merge, opening new opportunities for fan connections, personalised experiences, reimagined sponsorship assets and even new sponsorship revenue models" says Spencer Nolan, MD of Nielsen Sports. Think "online pre and post-game fan parties hosted on social platforms" and virtual reality tours of changing rooms and pit stops.
That could be a particularly powerful tool for sponsors. According to Nielsen Fan Insights, over half of fans say they are more likely to consider brands that are actively enhancing the way live sport is viewed.
"There's been a vacuum of innovation in the at-home experience of sports," says Rosh Singh, MD of Unit9, a technology agency that has worked with Lay's and Pepsi on experiential sports marketing. "All of the money is spent on rights inflation. There's HD, but there's no real interactivity. It's a huge shame but a huge opportunity for brands. They can really own part of the experience that nobody's looking after.
"The Covid-catalysed pivot to virtual has created a huge opportunity to extend brand experiences beyond the stadium and into fans' homes via interactive digital experiences," Singh says. "This more personal approach is less about big 'showy' branding and more about fostering real connections. Investing in the experience for people at home is super important, because it's been too stagnant, and brands can play a huge part in that. There's an opportunity for someone to come in and really take that mantle."
A sizeable opportunity at that. Because sport sponsorship may have taken a hit, but it's far from over. After plummeting to nearly half of 2019's value in 2020, GlobalData predicts sponsorship deals this year will recover most of their value to sit around $18bn to $20bn globally. "We're seeing the recovery begin and the optimism is there," says Wiecek.
There is even the potential for sponsorship to come back better post-pandemic, as it evolves into something more immersive. "In the short term, sports sponsorship has diminished," says Unit9's Singh. "The lustre has come off some of the most premium brands in the world. Right now they are weakened, clearly. But as they grow, they will grow much stronger."
Now that sounds like winning talk.
How brands are gearing up for a summer of sport: from AR to in-store activity
Yoplait Kids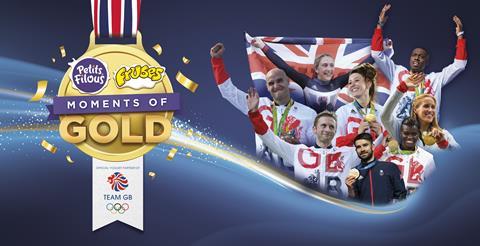 Yoplait has partnered with Team GB in what it says is a "perfect fit". "We have shared values around inspiring the next generation to get active," says Joanna Goodman, head of marketing, yoghurt, Northern Europe at General Mills.
A TV ad campaign for both Petits Filous and Frubes – 'Moments of Gold' – kicks off in June, as well as in-store, online and on-pack promotions.
"Team GB and the Olympics appeal to a very broad audience," Goodman says. "It continues to attract a younger audience."
Babybel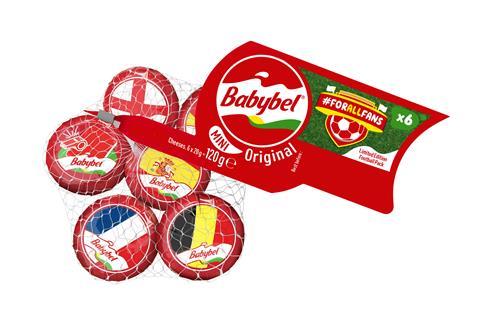 The snack cheese brand isn't sponsoring a particular event or team this year, but is nevertheless hoping to tap the general excitement around the "long-awaited summer of sports" with its #ForAllFans campaign.
There will be limited-edition football packs and point of sale boards for "on-shelf stand out", as well as free-standing Mini Babybel branded fridges "intended to drive impulsive purchases".
"We're excited to launch," says Babybel senior brand manager Emily Galazka.
Tennent's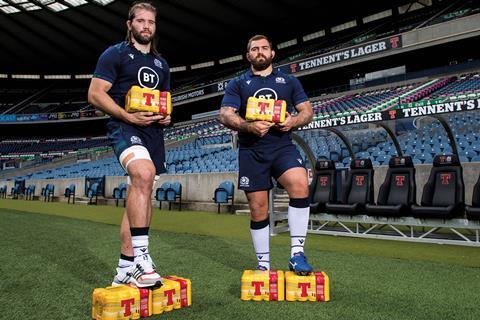 The relationship between Scotland's favourite lager and the Scottish FA dates back to the 1974 World Cup. "We've lived every moment since then shoulder-to-shoulder with the tartan army," says Tennent's comms chief Cameron Matthews.
This year, it is the official supporter of the Scottish senior men's and women's national football teams (as well as the nation's rugby union Premiership).
"There's an emotional connection to sport people have that is a global commonality," Matthews adds.
Pepsi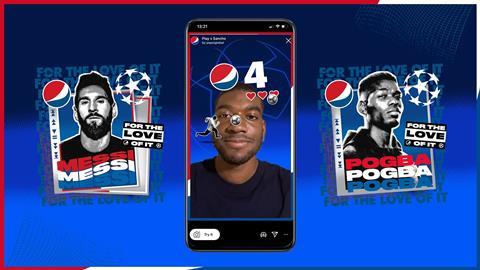 Pepsi Beat Runner is an augmented reality game, available on Pepsi's global Instagram profile. It features four of the world's top players, who users control by tilting their head up or down, with the aim of collecting as many balls as possible.
"Gamification, like that used in Pepsi Beat Runner, opens up a dialogue and is a great way for sports sponsors to connect with their target audience… people who often have a competitive streak," says Rosh Singh from Unit9, the agency behind the game.
Uber Eats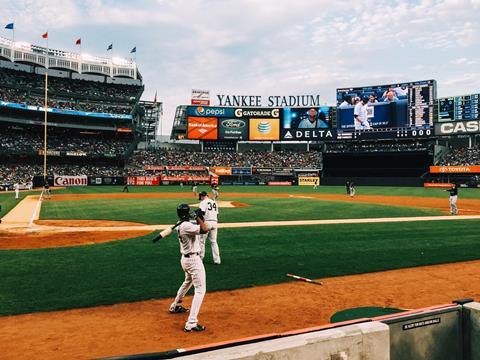 The food courier firm has partnered with a number of stadiums over the past few months – including the Imperial Wanderers Stadium in Johannesburg and Yankee Stadium in New York – to establish collection points. Fans can order from their seats and collect from a stall when their order is ready.
Rivals are also realising the potential of sponsorships. Just Eat and Deliveroo are backing major football competitions this year, while the latter is seeking to shirt sponsor thousands of grassroots football clubs in the UK.