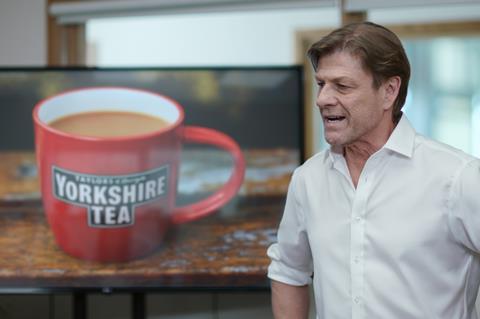 Yorkshire Tea has enlisted Yorkshiremen Sean Bean and Dynamo for its latest TV push, which will hit screens tomorrow (2 July).
The £3m investment sees Bean in 'Induction', lampooning his roles in Lord of the Rings and Game of Thrones. The Sheffield-born movie star wields a metal pointing rod as if it were sword, while giving an impassioned welcome speech to new starters at Yorkshire Tea.
The second of the two new ads, 'Warehouse', stars Bradford magician Dynamo as a worker in the brand's warehouse, floating unassisted down from a high shelf to help a nonchalant colleague.
Set to run for two years, both commercials were filmed at Yorkshire Tea's premises in Knaresborough, near Harrogate, with the brand's real employees making up the cast.
They mark the second phase of the brand's 'Where everything's done proper' campaign, which kicked off in 2017 with Michael Parkinson, Kaiser Chiefs and athletics' Brownlee brothers.
Yorkshire Tea was "chuffed to bits with these new adverts" said senior brand manager Ben Newbury. "Sean Bean and Dynamo are experts in their crafts and truly epitomise the art of doing things properly – an ethos that is central to absolutely everything we do here at Yorkshire Tea. We're so pleased we could recruit them to help spread the message of properness."
It comes with Yorkshire Tea in strong growth, having added 7.4% to its value sales in grocery to reach £94.6m [Nielsen 52 w/e 29 December 2018].