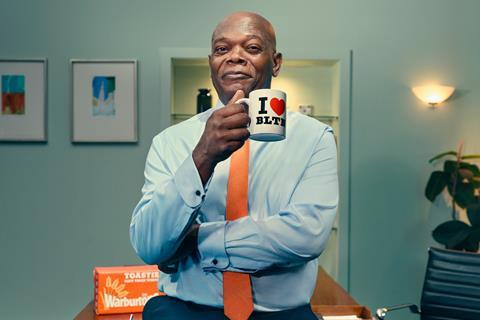 Warburtons has unveiled its latest TV ad, starring Samuel L Jackson.
Called 'Mad about the bread', the ad sees the Pulp Fiction star take on the role of Warburtons chairman Jonathan Warburton at the bakery business' Bolton HQ.
Reading a tweet from a customer called Steve, who questions whether Warburtons Toastie loaf is any different from competitors, Jackson quickly loses his temper, stating: "Hell hath no fury like a baker scorned."
A montage then follows of Jackson (as Warburton) outlining the effort that goes into making the perfect Toastie loaf, "packed full of the bakery's unique blend of wheat and 147 years of baking passion".
Jackson appears on the doorstep of Steve's parents' house at breakfast time, swapping out their competitor toast for slices of Warburtons Toastie. He explains how Warburtons tests its bread for "softness, butter-ability and bounce-backability" behind the scenes.
The ad ends with Jackson knocking down the door of Jonathan Warburton's office, to be met with the real chairman who states: "I couldn't have said it better myself."
It debuted on social media today (20 September) and will be on TV from 22 September.
The bakery behemoth has become known for its star-studded adverts over the years, having previously cast the likes of George Clooney, Robert De Niro and Sylvester Stallone in its campaigns.
"It was a pleasure to meet the man at the helm of Britain's biggest family bakery," said Jackson.
"We had a lot of fun on set so I hope people enjoy the finished product."
Warburton added: "Inviting the big-screen hero Samuel L Jackson into the business was a uniquely memorable experience.
"We hope to bring some light-hearted humour to viewers at home – while reminding the nation that our Toastie truly offers our customers the best of the best."