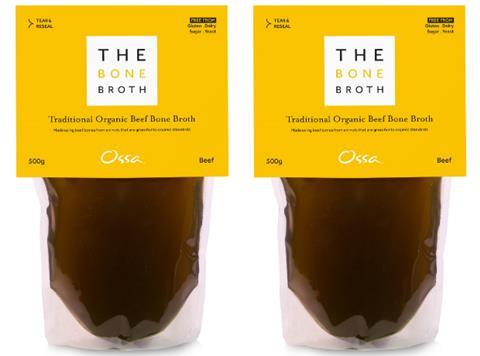 Whole Foods Market has opened its first bone broth bar – partnering with startup brand Ossa Organic to introduce shoppers to "the new coffee".
In a move to cash in on the growing wellness trend for bone broth, Whole Foods launched the pop-up bar this week in its High Street Kensington store.
It serves cups of Ossa's beef, chicken and vegan variants, with the option to "supercharge" the broth with ingredients such as grass-fed butter, coconut oil and turmeric. The aim was to encourage shoppers "to swap their morning coffee for a cup of bone broth for a natural energy lift" said Whole Foods.
It came in response to the "renewed interest in bone broth from consumers recently as a result of growing awareness around gut and digestive health, and from people who've discovered just how delicious it is" said Whole Foods grocery buyer Miguel Uribe. "We're noticing more customers enjoying bone broth as a morning ritual and healthy alternative to their caffeine fix."
To coincide with the launch of the broth bar, Ossa has unveiled its 14 Day Gut Reset, a collection of "restorative" food and a nutrition guide "to help consumers get curious about their gut health and learn how to kickstart their body's natural healing process".
Available from 28 January via Ossa's website, the programme (£100 plus p&p) starts with a "bone broth fast of four to 24 hours" – meant to "fast-track better digestion and increased energy".
In November, Ossa's bone broth was among 1,000-plus SKUs brought together for a wellness hub being trialled in seven Sainsbury's stores: Selly Oak, Newbury Park, Watchmoor Park, Coldhams Lane, St Clares, Cheadle and Lee Green.