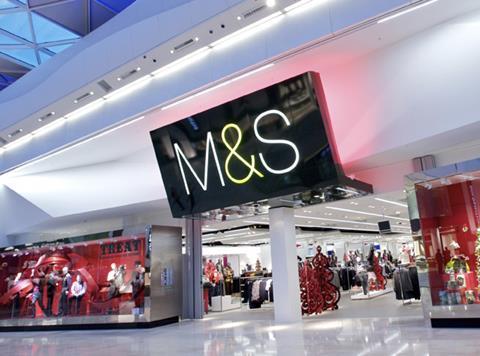 M&S chairman Archie Norman has told investment analysts the continued combination of the business's food and clothing arms is important to profitability.
His comments follow media speculation over the prospects of a break-up of the two arms after food outperformed clothing in Christmas trading.
Meeting with brokers Shore Capital yesterday, Norman said the combination remained important for stores because shared outlets were M&S's most profitable.
"We noted with interest that Mr Norman saw the combination [of food] with clothing as remaining important from a financial perspective for the group's shops; most current profitability is said to be in 'shared' outlets," Shore Capital said.
M&S reported last month that food like-for-like sales had risen 1.4% in the 13 weeks to 28 December, as customers responded to "sharper value" and innovation.
But overall performance had been hindered by declining sales in its clothing & home unit, down 1.7% on a like-for-like basis. It put total UK revenue growth at 0.2% on a like-for-like basis.
Shore Capital said that under M&S Food MD Stuart Machin's leadership, the arm was "demonstrably further on than clothing at M&S". A senior management structural shake-up had progressed more in food than other parts of the business, with recently hired former Tesco clothing chief Richard Price yet to join as MD of clothing & home.
The need for a shake-up stemmed from problems dating back to before Norman's arival in 2017.
"Mr Norman's opening remarks brought us back to the future when he starkly characterised M&S as a business that had been operated by well-meaning people prior to his joining, but ultimately the centre had become disconnected from both its stores and customers to detrimental effect," said Shore Capital. "As such, he entered a business in need of fundamental cultural change that puts the stores at the heart of the organisation.
"Seeing through cultural fracturing has required a structural adjustment to the M&S' senior management team, where work continues with recent hires in clothing, property and the supply chain. A search for a new CFO is yet to be completed. Management change overall, however, is viewed by the M&S chairman as a key positive development and so a measure of progress for the transformation programme."