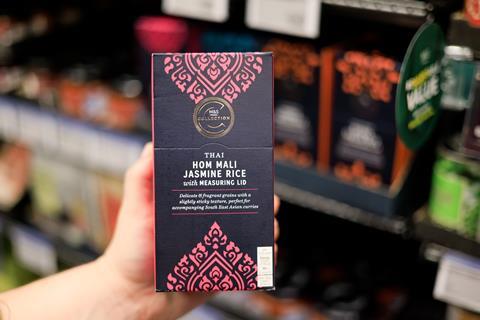 M&S has introduced recyclable packaging across its rice, grains and pulses range, in a move it says will save 5.5 million pieces of plastic a year.
Over 30 products, including bestsellers Basmati rice, Couscous and Red Lentils, are now available in a paper-based bag.
Another four products in M&S's top-tier Collection range – Thai Hom Mali Jasmine Rice, Aged Basmati Rice, Spanish Bomba Paella Rice and Italian Carnaroli Risotto Rice – are now packaged in paper boxes.
The boxes are said to be fully plastic-free, while the paper bags contain a plastic coating to help preserve the food.
However, both new types of packaging can be left in kerbside recycling bins, along with other paper waste for collection by local authorities, according to M&S.
M&S has pledged that 100% of its food packaging will be widely recyclable by 2025, as part of its 'Plan A' sustainability roadmap. The retailer has also committed to removing one billion pieces of plastic from its food packaging by 2027.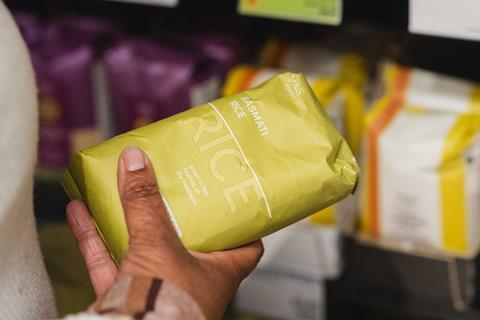 "We need to transform how we make, move and sell our products to make sure M&S Food is as sustainable as possible," said M&S Food technical director Andrew Clappen. "Tackling packaging is a huge part of that – we need to get creative in finding alternatives that our customers can easily recycle, that reduce plastic and that protect the all-important M&S quality.
"We're determined to do just that and reach our Plan A recyclability and plastic reduction targets. Our customers can be confident that, as we deliver on unbeatable quality and great value, sustainability is top of our list too – as it is theirs."
M&S's latest Family Matters Index found 63% of UK families were concerned about the environment and seven in 10 UK adults said they were making more of an effort to live sustainably due to the rising cost of living. Over half believed it was important that retailers made their products as environmentally friendly as possible.
M&S has also rolled out recycling bins in over 500 stores for packaging waste not typically recycled by local authorities, such as yoghurt lids and sweet wrappers.