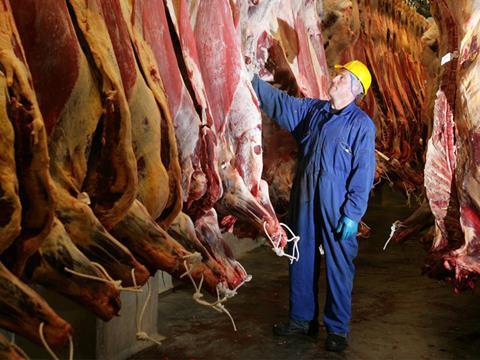 The letter cited the importance of the meat sector to the food supply chain

It also thanked the sector for looking after the health and safety of FSA workers in the meat supply chain
The Food Standards Agency has written an open letter to the meat sector to thank businesses for their response to the coronavirus crisis.
Meat businesses across England had "risen to the significant challenge that social distancing presents at their sites", said the letter, from the FSA's Covid-19 incident director Colin Sullivan and acting chief operating officer, Martin Evans.
The sector was also thanked for looking after the health and safety of the FSA workforce in the meat supply chain.
"In these unprecedented times, we want to thank you all for working with the FSA to enable your meat processing and our meat inspection to continue in businesses up and down the country in the most challenging of circumstances," the letter added.
It also cited the importance of the meat sector to the food supply chain, which had "never been more apparent".
Following calls from the sector last month for the FSA to relax some rules to help meet increased demand, the watchdog had implemented a "number of measures to minimise the impact on businesses", Sullivan and Evans said.
These followed clear principles to ensure they were temporary, applied as consistently as possible, and would continue to protect food safety and animal welfare, the letter pointed out.
They included prioritising the FSA's activity by deferring scheduled audits for sites with higher audit outcomes (good and generally satisfactory) until the end of June to maximise resources.
The FSA also used existing legislation to support a reduced FSA workforce. This included using other qualified individuals to carry out roles and extending some inspection deadlines to maximise resources.
"We have also identified authorised FSA staff who are able to return to the front line as well as staff who can be redirected from other government agencies, such the Animal and Plant Health Agency," they added.
"There is no 'one size fits all' solution to this problem and we know each and every site will face different issues in how they implement these measures," the letter said.
But it would continue to work with processors to "assist them to deliver these arrangements in the most practical way possible, to allow your staff and our staff to maintain food production and meat inspection at their premises".