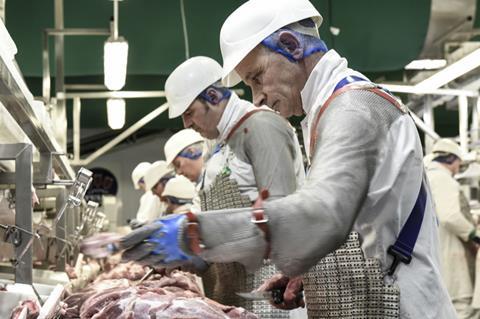 Meat giant Pilgrim's Pride has been hit by 170 positive Covid-19 tests at its bacon and gammon processing plant in Cornwall.
A single alert to Cornwall Council's public health team from the NHS test and trace service led to the discovery of the outbreak at the processor's Redruth facility, which has seen the testing of almost 500 staff since mid-September.
Most of the workers who tested positive for the virus were said to be unaware they had Covid-19 and were not displaying any symptoms at the time of the results.
Pilgrim's Pride, known as Tulip until last month, said the outbreak appeared to coincide with the increase in the prevalence of coronavirus across Cornwall.
"We have seen significantly more cases of Covid-19 in Cornwall over the past 14 days than we have experienced within our business of 6,000 employees located in 13 sites across the UK since the onset of this pandemic," said a spokesman.
"We recognise our role and responsibilities within our community and continue to follow and exceed government guidelines as we have been since March. Our teams have been working extremely hard in collaboration with the local authority and public health to manage this challenging situation and have bravely conducted themselves with professionalism and integrity as they continue to play their important role in maintaining the UK food supply chain."
According to the interim head of public health at Cornwall Council, Rachel Wigglesworth, tracing and then testing employees at the site has "potentially stopped much wider spread in [the] community".
Testing at the site is understood to have almost concluded, with only a small number of results yet to be confirmed.
Bernard Matthews cases 'double' while Scottish veg processor announces outbreak
The news comes as positive coronavirus cases at Bernard Matthews' Suffolk site have risen from 18 to 36. So far, 123 employees are said to have been tested at the site.
However, production at the turkey processing facility is said to remain unaffected.
Meanwhile, Scottish vegetable supplier Kettle Produce has been forced to temporarily halt some production at one of its two processing and packing sites in Fife following positive tests.
So far 10 cases have been confirmed at Kettle's Balmalcolm facility, which processes prepared and washed brassicas and salads. Its sister site at Freuchie is said to be unaffected.
"We remain committed to continuing to meet our customers' requirements," said Kettle head of HR John McGregor.
"We will continue to work closely with relevant agencies and remain committed to the protocols and social distancing measures which have been implemented across our business to protect our teams and their families."