The party's over for cheap sausages after that WHO cancer report, but premium lines are doing well. How can brands maintain momentum?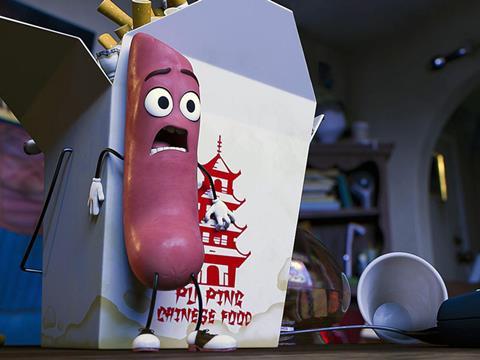 It hasn't been a great couple of years for the humble British banger.

The category was rocked by revelations in a World Health Organization report linking processed meat to cancer in October 2015, and sales have been on a downward trajectory ever since. Total market spend fell by 3.6% to £623m last year.

Brands have been hit particularly hard: branded value sales fell by 6.5% to £211m last year, with volumes down 4.7% [Kantar Worldpanel 52 w/e 29 January]. At the same time, own-label volumes grew by 2.6%.

It's not all bad news, however. One segment bucking the overall downward trend is premium.

Value and volume sales of premium own-label bangers were up 2.1% and 9.2%, respectively, last year. Meanwhile, value sales of the top six premium brands in the top nine supermarkets rose by 17.3% to £44.1m [IRI Retail Advantage 52 w/e 20 March], driven by the success of brands such as Heck and Porky Whites.

Premiumisation, of course, is nothing new for the sausage category. Growth has long come from premium and super-premium segments. But in the wake of that incendiary WHO report, premium quality cues have become more important than ever.

So how are suppliers looking to tap the premium trend? And what other trends are set to shape the category in the next 12 months?
"The market hasn't yet recovered to the levels seen before the publication of the WHO report"
It's hard to overstate just how big an impact the WHO claims had on sausage sales. The report - which put sausages in the same bracket as cigarettes and asbestos as potential carcinogens - led to value sales of prepacked sausages falling by 15.9% in the week after its publication [IRI]. On average, sausage sales were down 10% across the autumn of 2015 and they are still suffering from this legacy issue, suggests Martin Wood, head of strategic insight at IRI.

"The market hasn't yet recovered to the levels seen before the publication of that WHO report, while volumes have also been hit by the removal of multibuys in many retailers," Wood says.

The axing of many x-for-y deals has hit the category hard, agrees AHDB senior marcomms manager Stephen Farmer. Indeed, some shoppers may not even realise they are consuming fewer sausages, he suggests. The lack of deals means they simply end up with fewer in their shopping baskets - a trend seen across the red meat category.

On top of that, Farmer points out, sausages had reputational challenges even before the WHO report hit, particularly around negative perceptions on health.

Premium sausages, however, appear to have shrugged off these perceptions. Debbie & Andrew's commercial manager Neil Cooksey believes that's because consumers understand there's a difference between sausage quality tiers. They continue to "switch from value and standard ranges to premium as they seek more choice and better quality," he says.
Range rationalisation
Premium sausages may have avoided some of the reputational damage from the WHO report, but the current trading climate is nevertheless challenging for the UK's banger brands.

As retailers have rationalised ranges and put greater focus on own label, there has been a "massive consolidation of brands" in the supermarkets, says Heck co-owner Andrew Keeble. "Very few brands are on shelf now," he adds. "Whereas Heck has seen sales grow significantly, a lot of brands have been demolished, and that shelf space has been taken up by own label."

Indeed, Tesco has trimmed the ranges of Debbie & Andrew's, The Black Farmer and even Heck during the past 12 months [BrandView.com].
"A lot of brands have been demolished, and that shelf space has been taken up by own label"
Right now, Heck is by far the biggest premium sausage brand, with sales of £22.1m (up 77% year on year), ahead of The Black Farmer with £7.4m (down 35%), Porky Whites at £5.8m (up 43.3%) and Debbie & Andrew's at £4.7m (down 25%) [IRI Retail Advantage 52 w/e 20 March 2017].

That brands' fortunes have swung so much year on year illustrates how big an impact range reviews are having on the category. But Keeble believes tapping key consumer trends has also made a big difference. In Heck's case, sales have been boosted by soaring sales of its Chicken Italia sausage, which offers much less fat (2g per 100g) and calories than traditional bangers.
Heck is now preparing to open a brand new factory to meet an increase in demand. "We're in a good place, and the category will keep premiumising as long as the retailers don't crash the price," Keeble says.

Porky Whites has also been going for the health angle. Its Porky Lights low-fat sausage became a slimmers' favourite after launching in January 2016. Chris Price, MD of owner Graham White & Co, says although the brand was caught up in an unseemly row earlier this year over claims Porky Lights wasn't as low fat as it suggested, consumers still trust the brand and its provenance.

"Porky Lights has been popular because it is offering consumers a low-fat sausage that actually tastes good. We do have a very loyal following that is growing year on year, and the sausage is still being sold in all the major retailers and still selling well."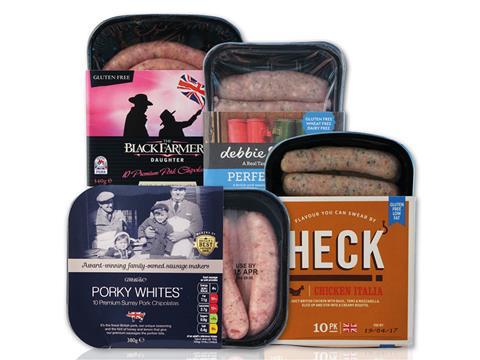 Debbie & Andrew's, meanwhile, has its eye on the flexitarian and high-protein trends. While sales for the brand in the top nine supermarkets have slumped, Cooksey is banking on the success of the brand's new Flexilicious range of flexitarian sausages and Clean & Lean high protein sausages to turn things around.

"We're meeting specific dietary or nutritional requirements and providing a sausage that suits every mealtime from breakfast to supper, plus providing seasonal interest," he adds. "The sector is showing ingenuity to demonstrate just how flexible the sausage format is."
Black Farmer founder Wilfred Emmanuel-Jones is equally positive over the prospects of his brand and the wider premium category. "As people become more knowledgeable, they will continue moving away from budget sausages," he says, while noting the brand's sales may not be as low as the IRI data suggests.

"It doesn't count our listings in Nisa, Budgens or Amazon Fresh, and we've also gained increased distribution in Sainsbury's and Morrisons. The future is all about convenience, and we have big plans for later this year when we will launch the first premium frozen sausages and a premium sausage ready meal range."

Continuing to innovate is the key to the category's ongoing success, agrees Price at Porky Whites.

"There's definitely been a switch in attitude from shoppers, particularly since the WHO report. People want to know more about their product. The future is bright for the category."
This feature is part of The Grocer's 2017 Meat, Fish & Poultry special. Read more from the special below:
Will Frankenfoods flood the market in post-Brexit US trade deal?
Will Brexit net a better deal for British fisheries?