Japan has opened its borders to UK beef and lamb for the first time in over 20 years. So what are the opportunities for British meat? And what challenges are exporters likely to face?
For a while back in the 1990s, Paul Madden - now the British ambassador to Japan - knew the Japanese for bovine spongiform encephalopathy. "I was working on trade policy at the embassy in Tokyo at the time," he says. "When the ban on British beef came in I went along and trotted the phrase out and a Japanese counterpart just looked at me with a strange expression and said 'oh, BSE'."

He's forgotten it now. Having learned some valuable lessons from the BSE crisis, the UK has re-invented itself as a world leader in food safety - something Japan recognised earlier this year when it lifted its 23-year ban on British beef and lamb. And with exporters also now benefiting from reduced tariffs on beef under the recently signed EU/Japan EPA, the government believes the Japanese market could be worth £127m to the UK red meat industry over the next five years.

So what is the opportunity for British beef and lamb in Japan? Will the UK's stringent food safety controls put it at an advantage against rivals in a competitive market? Or are there other barriers to success?
The UK was one of the first countries to set up diplomatic relations with Japan when the country first re-opened its borders to the world in the 19th century. As a result, the British embassy has one of the best addresses in Tokyo - right opposite the moat to the Imperial Palace, home to the Emperor.

"The UK and Japan still have strong social and political ties", says Esther Williams, head of trade for Japan at the Department for International Trade. "Theresa May visited Japan in 2017 and Japan's prime minister Shinzo Abe was in London in January. So there are strong ties at the top of the political establishment."

It was during his last visit to London that PM Abe signed the agreement to allow British beef and lamb back into Japan for the first time in over 20 years - a deal hailed by former farming minister George Eustice as an "excellent result for beef and lamb= producers across the UK", and one that demonstrated confidence in "our high standards" of food and drink.
Japanese shoppers: a snapshot
Meat has grown in popularity in Japan, while fish consumption is waning due to higher prices
Beef and pork are traditionally served minced or prepared off the bone in very thin slices or cutlets
However, restaurants such as steakhouses have introduced consumers in Japan to larger cuts of red meat and beef steaks are becoming more popular
Hamburger chains are also now well-established in Japan
Lamb is not widely consumed due to lack of availability and familiarity, but it's growing in popularity among some younger consumers looking for leaner meat option
Lamb is also used in some regional dishes, such as 'Genghis Khan', a dish native to Hokkaido, based on grilled mutton.
Health is a big priority for consumers in Japan, particularly those aged over 65, who make up a quarter of the country's population
Source: AHDB Country Focus Report on Japan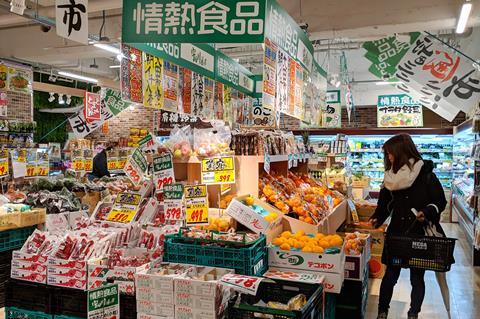 "As we enter a new era as a global exporter, unlocking this market marks a major step for future trading relationships," he enthused.

Japan is indeed an exciting prospect. The world's third-largest economy, it has a GDP almost double that of the UK and four times that of China. And it lacks sufficient agricultural land to feed its population, meaning it imports around 60% of the food it consumes.

With an unemployment rate below 4%, the country's consumers have a high level of disposable income. There a strong gifting culture and shoppers are willing to splurge big bucks on food and drink. In Tokyo - thought to have more millionaires than any other city in the world - there are department stores selling beautifully-packaged single melons for over £200.

However, sluggish growth in Japan's economy since the 2008 financial crash is driving a long-term shift away from luxury towards value. According to research by AHDB, most consumers now name price as a priority when choosing meat and dairy products, with only over-55s rating food safety as a more important consideration.

That doesn't mean younger consumers don't think food safety is important, though, stresses Kae Miyazawa, a senior trade advisor for consumer and retail at the British Embassy in Tokyo. It's simply that they assume food safety is a given. "In Japan there is a common perception among consumers that food is safe," she says. "That's a basic expectation. Safety is such an important thing but Japanese people trust that any food in the Japanese market is safe."

It's a fair assumption. Japan applies notoriously stringent food safety requirements on the food it imports - which is why its agreement to open its borders to British beef and lamb took so long, and means so much.


This does, however, mean that British beef and lamb producers won't be able to rely on their high food safety standards alone when selling into the Japanese market.

Equally, they won't be able to rely on the UK's grass-fed production systems - which produce leaner and arguably more sustainable meat than the grain-fed systems used by rivals such as the US. And while there is a growing interest in health and wellbeing among Japanese consumers, the fat content of meat doesn't have the same negative connotation in Japan as it does in the west. According to AHDB/ICM research, just 23% of Japanese consumers said the leanness of a cut would make them think it was healthy.

That's partly due to the fact Japan's highly prized domestic speciality Wagyu beef is highly marbled with intramuscular fat.

"Wagyu is still considered to be top in the Japanese market - and because we like marbled beef, grain-fed imports such as US prime beef are seen as the second best," says Miyazawa. "Grass-fed beef is considered lower-end in Japan."

That's going to be a challenge, because tariffs and production costs mean British beef and lamb will have to be sold at a premium in Japan.

What's more, sustainability - which has been another big selling point for grass-fed British beef and lamb in other international markets - is not a big driver for Japanese consumers when buying food, says Williams. "It's the same for animal welfare. They are just not in the consumer conscience," she says.
Relentless focus on quality
There are other challenges, too. Japan is a very stable place to do business, but its relentless focus on quality makes it "one of the hardest markets in the world," says Williams. It can take years to establish a business relationship, and "if you disappoint a customer it's very difficult to wind back on", she adds.

Meat supply chains are also still fairly long and complex too. "To reach the consumer you will need an importer or trading house to import your product, and then there will be at least one wholesaler and in many cases two or three companies between that importer and the retailer" says Miyazawa.

These difficulties are something British pork exporters have experienced first-hand since Japan opened its market to them over 10 years ago. "I've been coming to Foodex in Tokyo for five years," says Kevin Burrows, MD of CK Meats. "We did a little shipment to Osaka but it didn't work out, so we are still looking for a distributor here."

The biggest priority for Japanese importers and distributors is undoubtedly "security of product", he adds. "It's all about trusting the supplier and the supply base and getting to know more about what the UK does and how we do it."
"Being able to tell your story and why your product is different is very powerful here"
Burrows still believes there is a huge opportunity for British pork in Japan. Indeed, UK pork exports to Japan were valued at £2.9m in 2018, up 34% compared with 2017 [AHDB]. "We've got some of the highest standards in the world but our product is also really good, and it stands head and shoulders above some of our rivals when it comes to taste and texture," Burrows says.

There's a shared history too. Japan's treasured Kagoshima Kurobuta pork - considered among the finest in the world - can be traced back to British Berkshire pigs that arrived in Japan during the Meiji era in the mid-19th century. "A lot of people here don't even realise that Berkshire pork came from the UK, they assumed it came from the US," says Burrows.

Educating Japanese consumers on the heritage and history of British meat production, as well as the seasonality of products such as lamb, could well be key to breaking into the market. "Heritage is very important in Japan," says Williams. "Being able to tell your story and why your product is different is very powerful."

British meat exporters also have one big advantage in Japan. Consumers don't know much about British food yet, but they are obsessed with Brand Britain. "Japanese have a lot of respect for the UK," says Miyazawa. "You'll see a lot of people walking around with union jacks on their clothing."
Brand Britain
The UK's strong cultural and musical heritage, and its royal family, means Britain is considered both 'cool' and 'luxury' in Japan. As a result, Tokyo's high-end shopping streets are littered with British fashion and beauty brands.

However, tapping into the Japanese appetite for all things British might require UK meat exporters to put aside their regional differences and unite under one flag. "Yes there is the Scottish, the Welsh, the English and the Northern Irish. But we all have to come together under the brand of the union jack because it really stands for something here" argues Burrows.

British meat levy bodies have already joined forces to explore opportunities in Japan. Earlier this year, AHDB, HCC and QMS organised a delegation to Tokyo with some of the UK's leading meat exporters.
The trip included a visit to Foodex and a historic reception at the British embassy, where Chris Wheeler - executive chef of Stoke Park - cooked up the UK's first shipment of British lamb and beef in over 20 years for Japanese industry leaders and journalists.

"AHDB is working closely with UK exporters to develop the market and maximise the opportunity for UK beef, lamb and pork on this exciting market," says Jonathan Eckley, head of Asia-Pacific for AHDB.

The DIT is planning to push the British meat brand in Japan with a number of promotional events later this year as part of the 'Japan-UK Season of Culture', which runs from the Rugby World Cup in October 2019 until the Tokyo Olympic and Paralympic Games in 2020.

"The Rugby World Cup, taking place right across Japan, will give us the chance to access parts of the country we don't usually engage with," says Madden.
"The Rugby World Cup will give us the chance to access parts of the country we don't usually engage with"
Uniting under the British brand will be particularly important if UK meat exporters want to compete with their counterparts in Ireland, whose beef is already on sale in restaurants in Tokyo - and who have identified Japan as a "priority market", according to Ciarán Gallagher, Bord Bia SE Asia manager.

Speaking at seminar at Foodex Tokyo, where Bord Bia was exhibiting under the banner of "EU Meat" as part of a EU co-financed campaign, Gallagher stressed Ireland had decided to prioritise Japan before the Japan/EU Economic Partnership Agreement (EPA) was signed. "This fantastic agreement is just a bolstering of that opportunity, enabling us to renew our commitment to this market," he said.

Of course, Britain's ability to compete with Ireland in Japan could be dealt a fatal blow if the UK crashes out of the EU without a deal - something George Eustice did not appear to consider when he resigned in protest against the PM's decision to allow a Parliamentary vote on extending Article 50 to avoid that situation.

Earlier this year, trade minister Liam Fox admitted the UK and Japan wouldn't have a bilateral agreement in place before the initial 29 March Brexit deadline, and it's very unlikely it will be agreed before the extended April deadline, either.

Under a no-deal scenario, the UK would "revert back to WTO terms with Japan", admits Williams. And that would mean "EU member states would be getting a different tariff on beef than UK companies".

Lamb exports won't be affected, because Japan's WTO tariff for lamb is zero, but it would make it very difficult for Britain to compete on beef, which has a WTO tariff of 38.5% in Japan.

Under the EU/Japan EPA, that tariff goes down to 27.5% for year one and constantly decreases each year until year 16 when it is 9%. Pork exports would also be hit - with UK exporters losing the benefit of the reduction in Japan's pork tariffs from 8.5% to zero by 2028 under the EPA.

May and Abe have said "very clearly that the EU/Japan EPA would form the basis of the economic partnership between Japan and the UK", says Williams. But those terms still have to be negotiated and agreed, and the DIT can't give a timescale for when that might happen.

In other words, the UK might have regained access to Japan by consigning BSE to the history books, but Brexit could well put a halt to British beef exports before they've even begun.
Why Japan is the land of rising convenience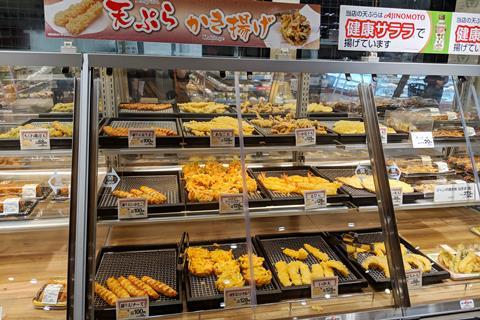 Japan is a highly urbanised society, with some of the longest working hours in the world. According to a 2016 government survey, one in five workers in Japan work 49-hour weeks. Commuting hours are also often long, with the average worker in Japan spending one hour and 19 minutes travelling to and from their workplace, a recent study found.
At the same time, there has been a rise in solo living in japan. Young people are waiting longer to get married and a growing number of elderly people are living alone. According to a UK government report, one in four households in Japan are now headed by a resident aged over 65 who either lives alone or with an elderly spouse.
In crowded cities like Tokyo - the most populated city in the world with over 38 million residents - high rental costs means many young professionals and elderly people live in tiny apartments with little or no cooking facilities or storage.
That's all driving a big appetite for convenient, single-portion meals that can be prepared easily.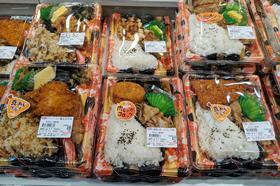 'Ready-to-eat meals, which are sold in convenience stores, supermarkets, department stores and food service outlets are the fastest-growing foodservice sector, growing in value by 2.2% between 2016 and 2017 (USDA),' states AHDB's recent Country Focus on Japan report.
'This market growth is driven by young, single professionals and the elderly. Young people who live alone tend to eat outside of the home, on the go, and enjoy convenient options close to their home or place of work'.
Supermarkets still have the largest share of the grocery market in Japan, but convenience and online channels are expected to grow over the next four years.
'The convenience (konbini) market is highly developed and innovative, targeting urban consumers with long working days and older consumers, who have limited mobility,' states the report.
'A range of pre-packaged snacks, hot foods and boxed lunches (bento) are offered to capture consumers at all times of the day.'
Convenience stores are often open 24 hours a day, and are increasingly experimenting with labour-saving technology such as automation, unmanned stores and RFID-tagged goods, it adds.

Carina Perkins is editor of thegrocer.co.uk

Carina is responsible for running and developing The Grocer's digital operations. She commissions high-quality digital journalism from our award-winning editorial team and thought-provoking comment from industry players.

Follow Carina on Twitter: @CarinaPerkins