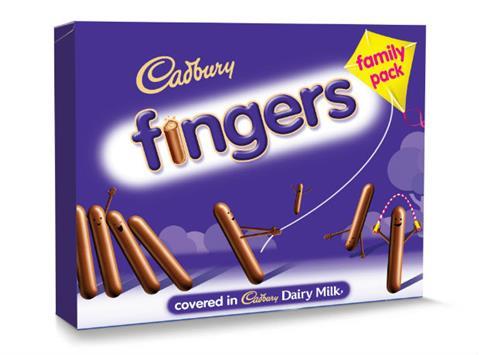 Mondelez International has united the confectionery and biscuit arms of Cadbury after acquiring the rights for the licence to make Fingers and Animals from Burton's Biscuit Company.
Mondelez, which bought Cadbury from Kraft Foods in 2010, said the deal would help it accelerate biscuit growth in key markets around the world.
The agreement to purchase the licence from Burton's enables the confectionery giant to make, market and sell Cadbury-branded biscuits around the world, including in the UK, France, Ireland, North America and Saudi Arabia.
Burton's added it would implement "a transformational growth plan" across its core brands, including Maryland, Jammie Dodgers, Wagon Wheels and Fish'n'Chips, and continue to invest in innovation.
"Ownership of the Cadbury biscuits license offers us exciting opportunities to accelerate global growth and innovation, as we expand our leading position in biscuits, globally and in Europe," said Hubert Weber, Mondelēz Europe executive vice president and president.
"The transaction will help us to unify and expand our global Cadbury biscuits portfolio in key markets and enable us to explore delicious new products by using the best of our chocolate and biscuit innovation platforms."
Mondelēz and Burton's agreed that Cadbury-branded biscuits will continue to be manufactured in Burton's Midlands factories under a co-manufacturing agreement.
"It [the deal] will also support Burton's ambition to be the number one manufacturer of premium branded and private-label biscuits and snacks and continue to grow its contract manufacturing business," the group added in a statement.
The companies have agreed not to disclose financial terms of the transaction but reports by Sky News earlier this year put the price at about £200m.
The two groups first held talks two years ago as Burton's, backed by Canadian fund Ontario Teachers' Pension Plan, was weighing up selling the Cadbury business to help in its bid to acquire McVitie's owner United Biscuits. However the talks came to nothing when Yildiz beat Burton's to the punch and bought UB for £2bn in 2014.
Burton's was also in talks with Ranjit Boparan's 2 Sisters Food Group earlier this year to buy Fox's Biscuits in a £330m deal, but the two businesses have gone quiet in recent months with media reports claiming the discussions have stalled.
The Mondelez acquisition of the Cadbury licence from Burton's is subject to regulatory approval.