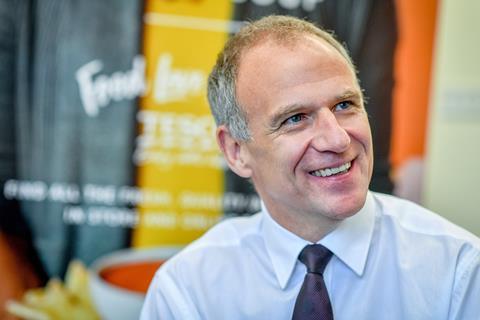 Tesco chairman John Allan has admitted the internal candidates at Tesco were "too inexperienced" to be considered as a replacement for chief executive Dave Lewis.

Allan said Tesco needed an experienced international big hitter to replace Lewis, who took over the Tesco helm in 2014 with the company in crisis.

The company announced today (2 October) that Lewis is stepping down and will be replaced next summer by Ken Murphy, formerly chief commercial officer at American retail giant Walgreens Boots Alliance.

Allan revealed Lewis told him 12 months ago that he wanted to leave the business.

"A year ago he indicated he was considering his future. As a business we started a very thorough process to assess our leadership options and as a result we identified Ken Murphy as our next CEO.

"We wanted a combination of experience and leadership in a major business.

"Dave will be a very hard act to follow but Ken is a seasoned, growth-oriented leader."

However, the Tesco chairman said internal candidates for the job, such as Jason Tarry, who has worked closely on the turnaround with Lewis and was made UK CEO in 2018, were too new to their roles to be considered for the top job.
Tesco group chief commercial officer Andrew Yaxley also took on his role in 2018 after the management restructure.

"We've got a very strong team," said Allan. "But many of them are relatively new in their roles. The timing was perhaps not optimal. If we'd have been having this discussion in two or three years' time it's entirely possible we could have had an internal successor."

Allan said Booker CEO Charles Wilson, who was originally brought in as UK CEO following the Booker merger and was widely touted as a successor to Lewis, had ruled himself out of the running for Lewis' job because of his health situation, having been diagnosed with cancer in 2018 but subsequently returning to run the wholesale business.

"Charles is doing an absolutely fabulous job but he didn't want to be considered."

Murphy was joint chief operating officer at Boots UK & Ireland before rising to executive vice president, chief commercial officer and president global brands at the company.

He has been working as a consultant with the company since January this year, having decided to move back to the UK with his family.

The exact date of the handover is yet to be decided, with Murphy seeing out the terms of departure from his role.

Allan, who has already faced questions regarding Murphy's lack of food experience, stressed that Walgreens operated a major food business in the US.

Lewis, who it emerged was part of the succession interviewing process, said: "Ken is a very good man. He's very experienced in terms of brand and retail in the UK. My advice to him is to use his ears more than his mouth.

"I'm sure he will put the customer first."

Lewis said he was committed to remaining "at the wheel" until Murphy takes the helm.

"It's important we are still right on it," he said.

Lewis said the job at Tesco had been "all-consuming", adding; "I intend to take some time out with my family and think about what lies next.

"I'm not looking for another job," he added.

"I'm not discussing anything with anyone else either. I'm going to step back."