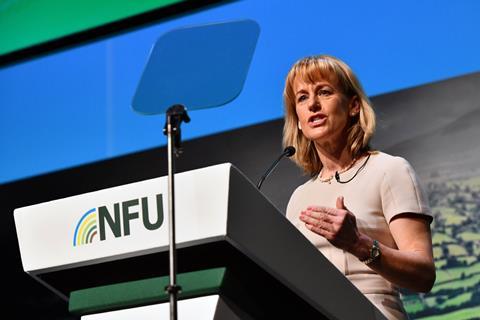 The Grocer's departure lounge for big figures is beginning to look quite full. David Potts and Sharon White have left their jobs, and Richard Walker has made his exit from the Conservative Party. They have all made significant personal impacts on grocery and they will all go on to do even more.
In this column, I hope readers will forgive me another set of personal reflections, this time on Minette Batters. She has announced her departure from the top of the National Farmers Union after six years as president and four as deputy president.
To those who feel she is a slightly tangential figure, I would argue she and the NFU have had as much influence on UK food and farming policy – although not always in the direction they hoped – as a Dave Lewis or a Mike Coupe over the past five years. If visibility counts, Batters is top of the A-list: she has more appearances on the Today Programme than any other public figure who is not a member of His Majesty's Government.
Anyone who doubts Batters' personal impact should have watched her at the start of the summer in the garden of 10 Downing Street. As the attendees at the PM's Food & Farming Summit assembled and the weekly Cabinet meeting came to an end, we were treated to an extraordinary demonstration that her influence was at 'peak Batters'.
As minister after minister emerged blinking into the sunlight and surveyed the attendees – who included Potts and many others of the high command of UK supermarkets – every single one of them made purposefully and single-mindedly for the NFU president. Yes, the summit was being held largely at her behest. But the clamour to speak with Batters was mainly because she has become the most important spokesperson in a generation for the UK food and farming community.
When she raises an eyebrow in the direction of Defra, senior officials move fast to assess and mitigate the damage. Ministers involved in public dust-ups with her on conference platforms such as Any Questions? or Question Time – on which she seems to appear every week – start posting their CVs. They are convinced her disapproval is career-ending. Conversely, it is now commonplace that anyone who can convince the PM they can 'deal with Minette' is a sure thing for promotion.
Some of this is actually justified, although her superpowers are also down to the peerless Terry Jones and his NFU secretariat and pretty impressive deputies, including Tom Bradshaw and Stuart Roberts. Batters' two heavyweight predecessors, Meurig Raymond and Peter Kendall, also deserve credit for sowing the seeds of the NFU renaissance.
She can be occasionally prickly and tricky. Yet she is also that rarity – a WYSIWYG (what you see is what you get) public figure with a scarily instinctive feel for a headline, who has shown the ability to transform the sometimes rag, tag and bobtail NFU into a fearsome fighting force. She is quite something in full sail, as per her treatment of Jacob Rees-Mogg at this week's Conservative Party conference attests.
In addition to the remarkable profile – before her, NFU presidents were commonplace on Farming Today, not so much the Today Programme – her post-Brexit trade campaign to force Liz Truss into establishing the Trade & Agriculture Commission garnered one million signatures and actually changed government policy.
It is also fair to say UK farming's commitment to net zero by 2040 owes much to her championing the cause.
But it is not all success. The NFU remains at odds on many fronts with the government, which is seemingly wedded to an agriculture policy set in 2017 that is now colliding with the 2023 reality.
The likeliest successor, Tom Bradshaw, will be very different – more cerebral, perhaps less box office. That may be right for the post-election world.
Meanwhile, it's not clear what Batters will do next. A seat in the House of Lords may beckon, but that would be a significant downgrade after her last decade. More likely, I suspect, is a portfolio career with some broadcasting (Countryfile, anyone?), some corporate roles and something to address her passion for Africa.
And, of course, she has a farm to run. Although that may take precedence, I somehow doubt it will have much more of her attention in the years to come.