A far cry from the nativity scene picture variety your mum used to buy, here's our pick of the most decadent and different advent calendars hitting shelves this festive season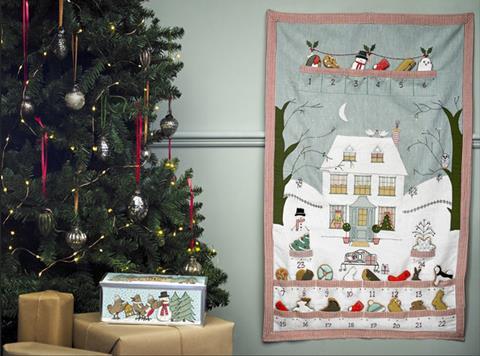 Biscuiteers Hand-stitched Calendar
RSP: £125 or £175 with biscuit tin
Where? Biscuiteers website
London 'biscuit boutique' Biscuiteers has teamed up with designer Susie Watson for this hand-stitched advent calendar. The reusable cloth calendar depicts a snowy house scene and features 24 pockets, which can be filled with Biscuiteers Christmas biscuits or treats of your choice.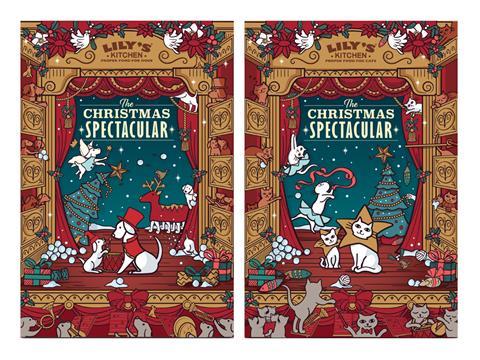 Christmas Spectacular Advent Calendars
RSP: £10
Where? Lily's Kitchen website, Pets at Home, Ocado and independent pet shops
It's not just humans that'll be getting a daily treat on the run up to the big day. This year their furry friends can have an advent calendar of their own thanks to natural petfood producer Lily's Kitchen. The Christmas Spectacular calendars for cats and dogs contain wholesome treats in fancy festive flavours such as Chicken with Shrimp and Turkey with Cranberry.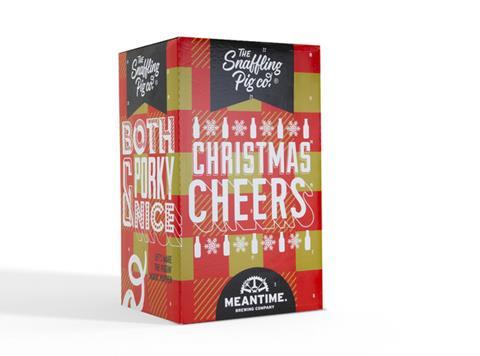 Pork Crackling & Beer Advent Calendar
RSP: £65
Where? Selfridges and the Snaffling Pig website
Snaffling Pig is no stranger to the advent calendar market, having launched its Merry Piggin' Christmas calendar in 2016 (available again this year for £17.50). But this Christmas the brand is raising its advent game by collaborating with Meantime Brewing Company. Standing half a metre tall, the calendar contains 12 packs of Snaffling Pig's pork crackling in Low & Slow BBQ, Marvellous Maple and Perfectly Salted flavours, and 12 330ml bottles of Meantime beer including London Lager, London Pale Ale and Yakima Red.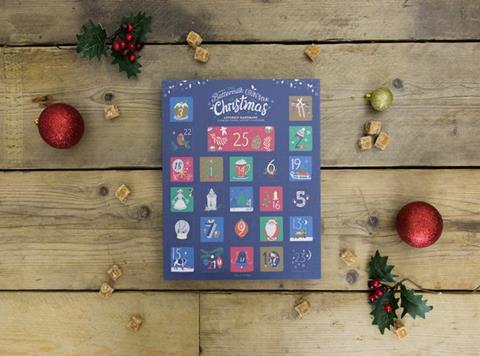 Fudge-Filled Advent Calendar
RSP: £14.99
Where? Waitrose, National Trust shops, Debenhams, Amazon, Moonpig
Those with a particularly sweet tooth need look no further than Buttermilk's new fudge-filled calendar. Behind every door is a festively-flavoured piece of crumbly fudge, individually wrapped in compostable packaging, as well as a charade to start off the Christmas games early. Flavours include Mince Pie, Rum Hot Chocolate and Gingerbread, and there's a Caramel Sea Salt all-butter fudge covered with milk chocolate to look forward to on the big day.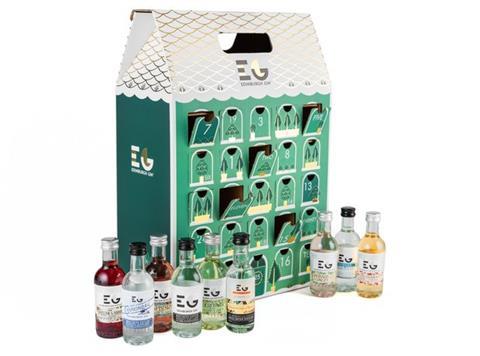 Gin Advent Calendar
RSP: £120
Where? John Lewis
This festive offering from Edinburgh Gin is sure to keep avid gin drinkers happy this Christmas – or at least throughout December. The house-shaped calendar contains 25 miniature bottles and comprises a mixture of the full Edinburgh range. Tipples include fruity gin liqueurs such as Plum & Vanilla and Pomegranate & Rose, and Christmas gin – which is made with frankincense and myrrh.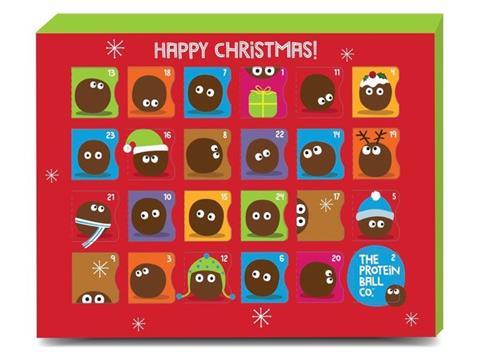 Protein Ball Advent Calendar
RSP: £12.99
Where? The Protein Ball Co website and selected retailers
Who said advent had to be unhealthy? For those who want a "delicious morning treat with none of the guilt" this calendar from The Protein Ball Co is the solution. Behind each door is one of eight flavours including Peanut Butter & Jam, Lemon & Pistachio and Cherry Bakewell, with a festive-flavoured ball to enjoy on the final day.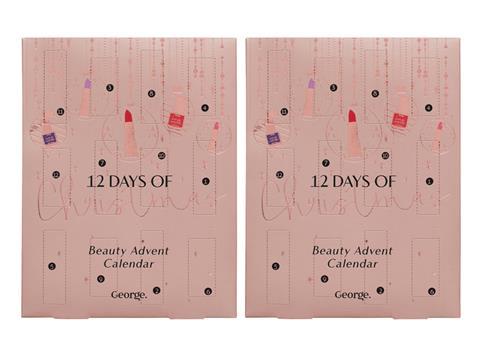 Beauty Advent Calendar
RSP: £20
Where? Asda
Whether getting glammed up for a work do or coordinating your nails to your Christmas Day pyjamas, George's beauty advent calendar has those festive make-up needs covered. This 12 days of Christmas calendar contains six satin lipsticks and six long-lasting nail polishes worth a total of £30.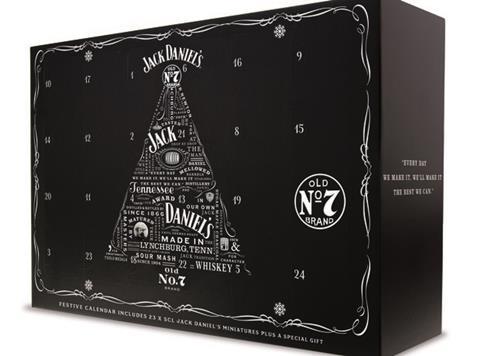 Holiday Calendar
RSP: £60
Where? Asda and the Jack Daniel's online store
What better way to get into the festive spirit than with a miniature bottle of whiskey each day? Jack Daniel's has given advent a 'Tennessee twist' with its very first calendar, which contains 23 5cl bottles of whiskey from the brand's range, including Jack Daniel's Tennessee Whiskey, Tennessee Honey, Tennessee Fire, Gentleman Jack and Single Barrel. And on the 24th day there's a gift any Jack fan would love in their stocking – a keyring hip flask.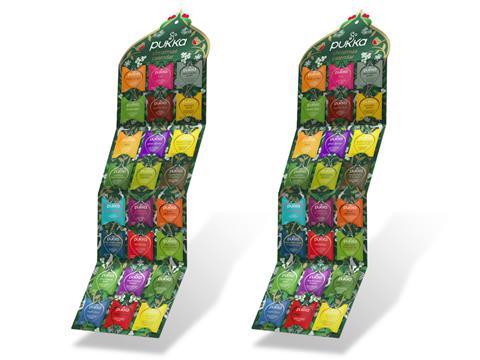 Pukka Christmas Calendar
RSP: £9.99
Where? Holland & Barrett
Tea lovers can cosy up with a different herbal brew every day of advent thanks to Pukka's tea calendar. Keep warm with festive flavours such as Vanilla Chai and Wild Apple Cinnamon, and soothe the post-turkey bloat with Turmeric Active or Lean Matcha Green. Featuring Pukka's attractive tea box designs with a festive twist, the colourful calendar is on sale now in Holland & Barrett.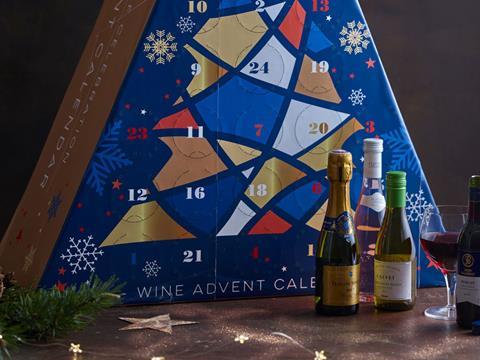 Wine Advent Calendar
RSP: £49.99
Where? Aldi
Raise a glass to the festive season with Aldi's Wine Advent Calendar. Featuring a colourful Christmas tree design, the calendar contains a mixture of red, white and rosé wine miniatures, and a few bottles of bubbly for good measure.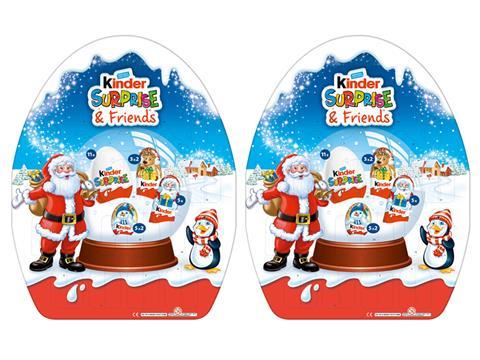 Kinder Surprise Egg Advent Calendar
RSP: £24
Where? TBC
Kinder is looking to maintain its number one spot in the kids advent category with the launch of its egg advent calendar. The calendar is chock full of chocolate treats – 32 in total – including 11 Kinder Surprise eggs.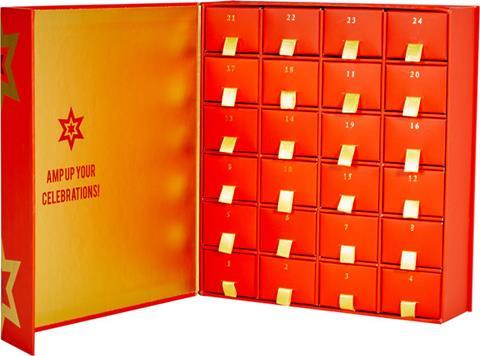 Mini Mince Pie Advent Calendar
RSP: £25
Where? Selfridges
Forget bulk-buying mince pies as soon as they arrive on shelves – Selfridges is putting the classic Christmas bake into advent calendar form. Inside the dazzling red and gold box are 24 drawers, each containing a mince pie in 'sticky, booze-laden flavours'. Santa himself would be jealous.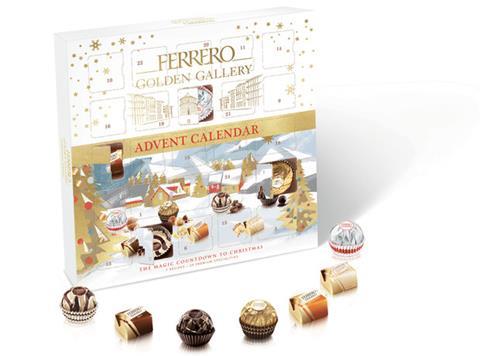 Golden Gallery Advent Calendar
RSP: £14
Where? Debenhams and Amazon
We see your box of Ferrero Rocher and raise you the Ferrero Golden Gallery Advent Calendar. The new calendar is as decadent as it sounds, containing three different varieties of praline and four Ferrero Rocher flavours, including almond and cappuccino.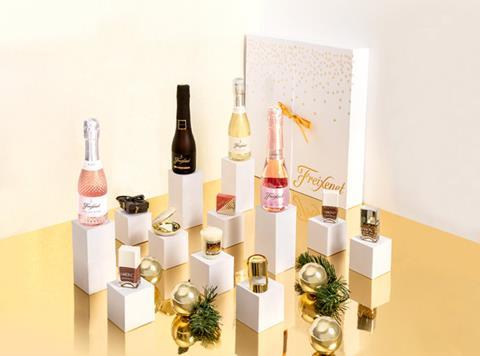 Prosecco Advent Calendar
RSP: £75
Where? Online at The Fizz Boutique by Freixenet
After adding its first prosecco to its range last year, Freixenet is bringing the sparkling wine centre stage in its 2018 advent calendar. The indulgent calendar contains Nails Inc nail polishes, prosecco bath bombs and aromatic candles as well as miniature bottles of Freixenet prosecco and Italian sparkling rosé, to ensure you arrive at the big day perfectly pampered.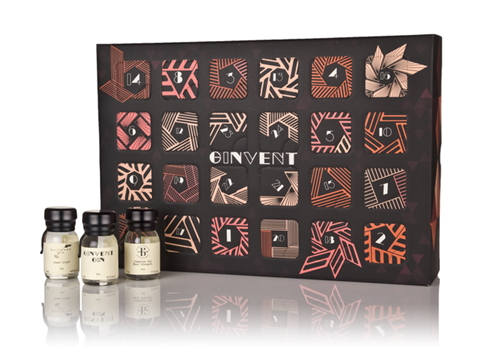 Ginvent
RSP: £125
Where? Online at Gin Kiosk, Master of Malt and Amazon
Brothers and Gin Foundry founders Olivier and Emile Ward created the first incarnation of Ginvent for patrons of a London bar, opening a door of the two by two-metre calendar each day of advent. Six years on, and a scaled-down version of the calendar is on sale to gin lovers across the globe. Behind each door hides a different 30ml dram of craft gin from producers including Malfy, Scapegrace and Teasmiths.
Protein Advent Calendar
RSP: £39.99
Where? Boostbox website
London startup Boostbox is promising '25 days of gainz' with its protein-packed advent calendar. Behind each door is a premium treat from brands including PhD, Pulsin and Bounce, with an average of 15g of protein per product. And as a festive bonus, the calendar contains discount codes for the brands inside to sweeten that New Year return to the gym.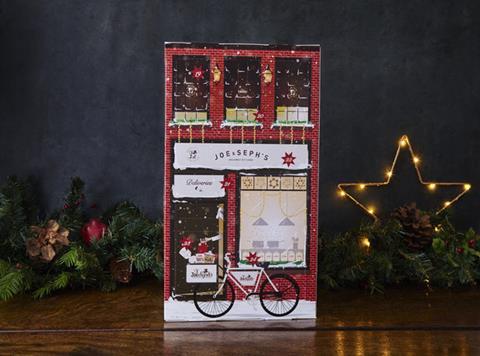 Popcorn Advent Calendar
RSP: £25
Where? Joe & Seph's website, Harvey Nichols, Wholefoods and Selfridges
As Christmas approaches and the festive films start to hit our screens, there's no better time to have a constant supply of popcorn to hand. Debuting this year, Joe & Seph's popcorn advent calendar provides just that. Each door of the Victorian shop-front calendar hides a snack-sized packet of popcorn, including some Joe & Seph's favourites and some never before tried flavours, such as Cookies & Cream, Chocolate Orange and Banoffee Pie.