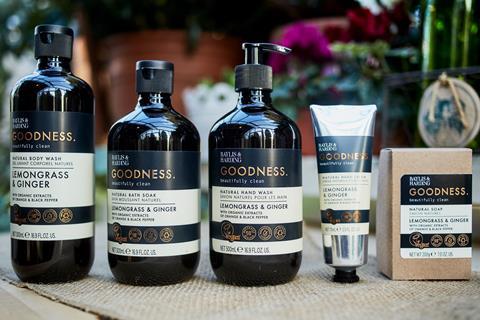 Personal care brand Baylis & Harding has unveiled Goodness, a sustainable grooming range.
Comprising five plant-based products – handwash, bodywash, bar soap, bath soak and hand cream – Goodness comes in fully recyclable packaging.
The handwash, bodywash and bath soak are packed in 500ml bottles made from 100% recycled plastic, while the 200g soap is plastic-free, packed only in cardboard. Both formats can be recycled domestically.
The bottle's pumps and caps and the 75ml hand cream tubes will be recyclable via Baylis & Harding's tie-up with TerraCycle. Shoppers can drop off their items at one of the recycling giant's collection points listed on its website. Or they can sign up online to be a collector for Baylis & Harding packaging. Consumers are rewarded for sending in their waste with points that can be redeemed as charitable donations.
Goodness will be available in four, paraben-free fragrances: Lemongrass & Ginger, Sea Kelp & Peppermint, Rose & Geranium, and Oud, Cedar & Amber – all made with 98% natural ingredients and Vegan Society approved.
They had been "inspired by nature and created with the environment in mind", said Baylis & Harding, and were the brand's "latest stepping stone in its 'sustainable luxury' journey".
A large selection from the Goodness range will roll out from this week to Boots (rsps: £2.50-£4).
"As we move forward into a new era, we're evolving and listening to the needs of our loyal customers and considering the world around us even more," said Baylis & Harding co-founder Tania Slater. The brand continued "to nurture our luxury brands to be more sustainable with the future generations in mind".
Goodness follows the launch by Baylis & Harding of Elements Collection, a three-strong lineup of liquid hand soap with pack designs inspired by interior design.