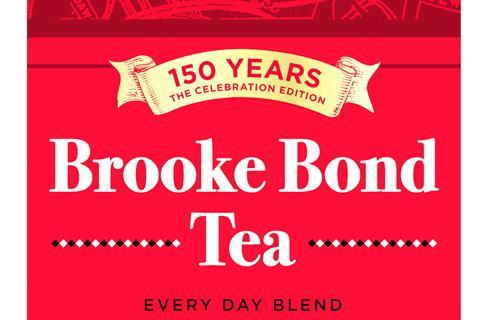 Brooke Bond tea, best known for its packs' collectable cards, is to make an official return to the UK after about 20 years.
The revival comes as the value brand marks its 150th anniversary, with boxes of 80 teabags (rsp: £1) and 160 teabags (£2) available now under the name Brooke Bond Tea Every Day Blend.
The lid of each pack features a historic map of Manchester, where founder Arthur Brooke opened his first tea shop in 1869, expanding into wholesale tea in the 1870s. In 1903, he launched Brooke Bond Red Label in India, where it is still popular.
In the UK, the brand's core brew was called D (originally Dividend), and was advertised on 1980s TV with the jingle "I could do with a D".
From 1954 to 1999, shortly before the UK demise of the Brooke Bond name, boxes contained illustrated 'tea cards' that could be collected into themed sets, typically of 50 cards each. The first was Wild Birds, while the final proper set comprised heat-reacting cards that revealed a 'prediction' when held over a cuppa.
The cards are not available with the new version of Brooke Bond.
Unilever bought the brand in 1984. By reviving it in the UK, it was "ensuring that tea lovers across the UK can enjoy a quality cup of tea, no matter their budget" said marketing director for tea Fiachra Moloney. "The relaunch will not only warm the hearts of those who loved Brooke Bond previously, but it will also appeal to a completely new set of tea lovers."