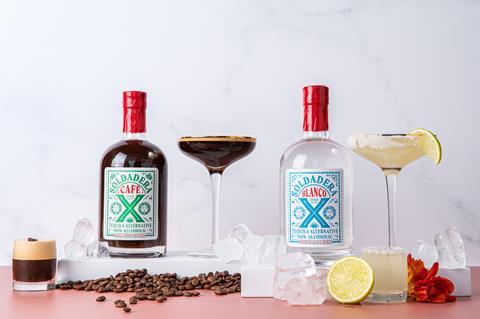 Mindful Brands – the non-alcoholic drinks company set up by Ceder's founders Maria Sehlström and Craig Hutchison – is to launch Soldadera, a booze-free tequila alternative.
Soldadera will debut with two SKUs (rsp: £18.99/500ml) – a Blanco made with "premium agave" and a 'Café' variant made with coffee.
The duo will be available in the UK on Amazon, Drydrinker.com and via Mindful Brands' DTC platform.
It is the first dedicated non-alcoholic tequila brand to be sold in the UK.
Non-alcoholic spirits brand Clean Co makes Clean T, a zero-proof tequila replacement, while Lyre's also produces two agave-based alcohol-free SKUs. Both brands also make other non-alcoholic spirit alternatives, however.
Soldadera Café, meanwhile, is the first non-alcoholic tequila alternative to be made with coffee.
The product can be drunk neat or mixed in a non-alcoholic Espresso Martini, according to Mindful Brands.
Sehlström and Hutchison, who sold a majority stake in non-alcoholic gin alternative Ceder's to Pernod Ricard in 2021, said Soldadera had been developed in response to growing demand for tequila globally.
"In recent years, tequila has seen a renaissance and its popularity has reached new levels, especially with on-trade and consumers' greater appreciation of quality tequila," Hutchison said. "However, there are still very few options available for those looking for a non-alcoholic alternative so we believe that Soldadera is well placed in the fast -growing non-alcohol space."
Soldadera takes its name from Las Soldaderas – the women who participated in the Mexican revolution in the early 20th century.
The distilled non-alcoholic spirit is made from agave and other "carefully sourced and selected botanicals and ingredients", according to Sehlström.
Each ingredient is individually distilled, extracted or macerated to extract flavour, before being blended with purified water, and filtered and bottled.