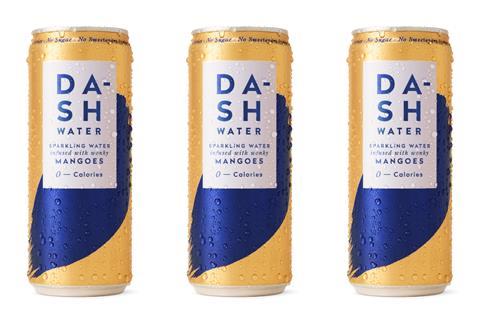 Dash has added a new mango-flavoured sparkling water to its lineup.
The drink, which promises "an explosion of the exotic", has launched via the brand's website and will roll into Ocado and Amazon next month (rsp: £4.50-£14.99/4-12x330ml).
It will also launch on rapid grocery delivery app Gorillas in early February.
While over 43 million tonnes of mangoes were grown every year, not all were perfect enough for supermarket shelves, said Dash.
For that reason, the brand had decided to save the "rejected knobbly, bobbly mangoes, fusing the wonderfully unwanted wonky fruit into freshly-sprung, sparkling water", it said.
"Everyone loves mangoes, there's something about them that transports you to a sunny, happy place", said Dash co-founder, Jack Scott. "I think this is our best flavour yet – I can't wait for everyone to try it."
It comes as the brand has made concerted efforts to expand its offering in recent months.
Last March, Dash took on likes of Fever-Tree and Schweppes as it made its mixer debut with a range of sodas.
The B Corp then teamed up with Beavertown Brewery to launch a hard seltzer in August.
Several of the soft drinks giants, meanwhile, are eyeing canned fizzy water as an area for growth.
Earlier this week, Evian launched its first sparkling water into Tesco in a 330ml aluminium can format.
Highland Spring, last year fired a shot across the bow of the likes of Dash, Ugly and San Pellegrino with a trio of fruity sparkling water cans.
Coca-Cola, meanwhile, looks set to launch its Aha brand of fruity sparkling water cans in the UK: The Grocer revealed last year the soft drinks giant had applied to register Aha as a trademark in the UK.