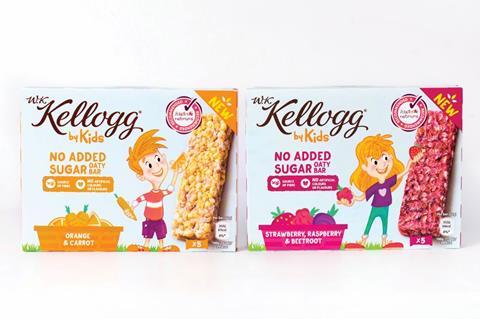 Kellogg's is taking its recently launched WK Kellogg by Kids brand into snack bars.
WK Kellogg by Kids bars will roll out in two flavours – Orange & Carrot and Strawberry, Raspberry & Beetroot.
Both flavours contain no added sugar, no artificial colours or flavours, and fewer than 100 calories per bar.
They had been developed in collaborative workshops with 2,000 children and parents, which Kellogg's said ensured the bars were something parents would be happy to buy for their children and that kids would love.
Both SKUs hit Morrisons this week (rsp: £2.49/5x22g) and will roll out to more retailers over the next few months.
They join the WK Kellogg by Kids range, which launched last year with the aim of encouraging families to make healthier choices, said Kellogg's.
It debuted with Multigrain Shapes Cereal, which Kellogg's claimed was the first mainstream children's cereal to be made with fruit & veg.