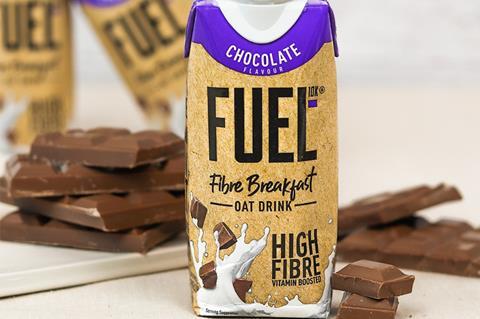 Fuel10k has added a duo of 'Fibre Breakfast' vegan oat drinks.
The drinks – which come in chocolate and banana flavours – are billed as being high in fibre, low in fat and "vitamin-boosted".
They hit 420 Asda stores this week (rsp: £1.59).
Fuel10k MD Scott Chassels said the brand had received "consistent feedback from our consumers demanding a vegan drink option".
"The opportunity to launch a plant-based drink was too great to ignore," he added. The drinks have been registered with the Vegan Society, bringing the number of accredited Fuel10k products to 13.
"We want to continue to build our range, adding more great tasting products that tick the vegan box. It's a really busy time for us and work is already underway on these new lines," said Chassels.
The launch will be backed by a digital marketing push offering free samples.
It's the latest breakfast NPD from the brand: November saw it claim a UK first with the rollout of potted instant oat muffins.