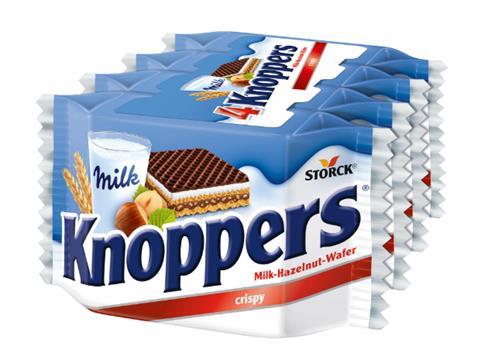 German confectioner Storck is to launch its longstanding Knoppers brand in the UK – backed by a £4.5m investment.
Comprising layers of plain and chocolate wafer, milk cream and hazelnut cream, the snack will roll out on 1 September, 34 years after it made its debut in Germany.
Available as a 25g single (rsp: 50p) and a multipack of four (rsp: £1.25), Knoppers would be aimed at the 8.4 billion sweet snacking occasions currently taking place in the UK, Storck said. Children's lunchboxes and after-school occasions were to be major targets, with each single containing 8.7g of sugar and 137 calories (or 34.8g of sugar per 100g and 547 kcal).
Knoppers' launch will be supported by £4.5m of media activity, including a TV ad from 8 September. It shows a family watching TV on which a weatherman is describing the product, and it closes with the strap 'It's cheering up nicely with Knoppers'.
Storck added the wafer snack (pronounced 'k-noppers') in 1983. It has since become available in 50 countries, mainly across Europe, where it had "proved to be a huge success" said Andy Mutton, sales director at Storck UK. "We firmly believe the brand is set to continue this success in the UK."