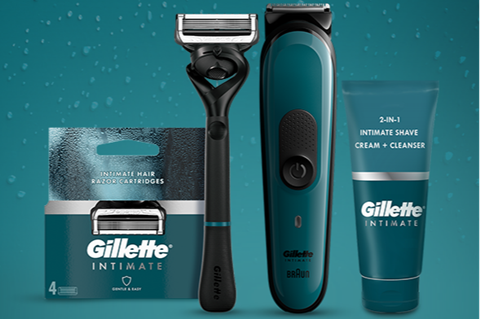 Gillette is hoping to capitalise on the growing trend for manscaping with a range of products specifically designed for pubic hair trimming and removal.
Called Gillette Intimate, the range includes a duo of waterproof trimmers with Braun technology, a razor, and a shave cream & cleanser.
The i3 Intimate Hair Trimmer (rsp: £59.99) is "built to be gentle with thin, loose skin" – with 80 minutes' battery life. Its teeth are 33% closer than a Braun beard trimmer to "reduce skin bulging" and it features a protective comb.
The i5 Intimate Hair Trimmer (rsp: £89.99), meanwhile, has a lithium-ion battery capable of operating for 100 minutes on a single charge. It features three attachments for "versatile use".
Intimate Hair Razor (rsp: £14.99) features five "anti-friction" blades with twice as much lubrication as facial razors and a Flexball handle "for better manoeuvrability". It features a wider, flat handle tip and "anti-slip" grip "for better control".
A four-pack of replacement razor heads (rsp: £17.50) is sold separately.
Finally, the dermatologist-tested Shave Cream & Cleanser (rsp: £9.99) has a lower water content and higher lubrication than typical shave gels and foams, which was "ideal for the sensitive skin in intimate areas", according to Gillette.
The entire range, apart from the i5 Intimate Hair Trimmer, has rolled into Boots. The i5 is currently available exclusively through Gilette's webstore.
"More and more guys across the UK are grooming their intimate area, but until today Gillette didn't offer products with purpose-built features for such a sensitive and complex job," said Callum Wood, Gillette brand director for UK & Ireland.
"The line-up takes our decades of experience in men's grooming into a dedicated range that gives guys the confidence to trim their pubes, shave their balls, or groom however they choose."
It follows the launch of Gillette's Venus range for female pubic hair removal in 2021, which featured a razor, exfoliant, shave gel and serum.