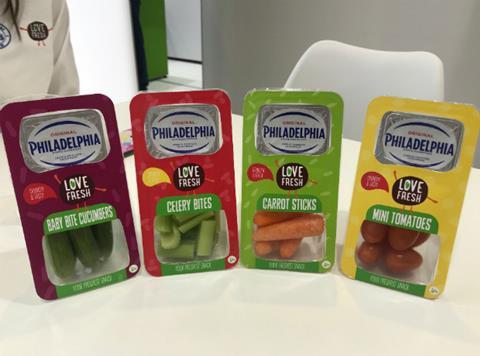 G's Group is gearing up to launch two of its overseas brands in the UK this year, in a bid to breathe life back into "over-commoditised" produce aisles.
The £500m veg supplier unveiled a raft of new products at this week's Fruit Logistica trade fair in Berlin, and is planning to launch its Love Fresh brand in the UK in June in partnership with fmcg giant Kraft.
The new four-strong range of veg snack packs, which feature a 35g pot of Philadelphia cheese for dipping (rsp: £1.50-£2) had been well received by British supermarket buyers, G's global head of branded David Wagstaff told The Grocer.
They feature 80g of celery, baby cucumbers, mini tomatoes or carrots grown in Spain. The range had previously been on sale across Europe as a ready-to-eat celery snack with dips.
"It is still difficult to find healthy products to snack on the go between meals," said Aurélie Zogheib, head of brand for Love Fresh. "On the other hand, we would all like to eat more fruit and vegetables. By combining these two ideas and following current trends and consumer habits, we wanted to bring vegetables closer to consumers in a fun, healthy and convenient way."
The products are set to follow hot on the heels of G's first branded line in the UK, as it prepares to roll out its Love Beets range of marinated and cooked beetroots into Tesco from May.
The range, which is also on sale in Europe, the US, South Africa and Australia, will make its UK debut in clear plastic, recyclable packs.
Made with baby beetroot grown in the UK, Malt Vinegar, Ginger & Honey and Sweet Chilli flavours (rsp: £1.25/184g) will roll out exclusively in Tesco, capitalising on the supplier's relationship with the supermarket giant.
It will also introduce a plain, cooked beetroot product in a pouch as an entry point, while hoping to move consumers to more interesting flavour profiles as their confidence grows. The brand is set to back its launch with PR and marketing, including sampling and giveaways in a bid to entice younger shoppers.
"Beetroot was a great starting point for us to bring a brand into the UK because Tesco overindexes in beetroot sales – partly because of the work we've been doing to keep its offer fresh, and partly because of the demographic," said Wagstaff.
"Cheese used to be dominated by own label, but now brands have a huge cut – it was the same in eggs before Happy Egg. We think now is the time to bring excitement back into fresh produce, and we can give the brand the backing it needs to stand out from the produce aisle price wars."