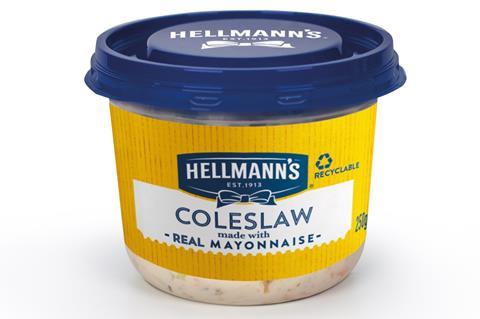 Hellmann's is venturing into supermarket chillers for the first time with a new coleslaw.
Hellmann's Coleslaw, which was created in partnership with Sussex-based manufacturer Natures Way Foods, marks the first time the brand has launched a licensed product.
Hellmann's owner Unilever said the move would give fans "even more opportunity to enjoy the mayonnaise they know and love".
Hellmann's was one of the first major brands to enter the coleslaw category, which was dominated by own-label products and "just a handful" of branded lines, Unilever added.
Hellmann's Coleslaw will launch in two pack sizes: 250g and 500g. Both come in a 100% recyclable pot, which had been designed to imitate the classic Hellmann's mayonnaise jar and "offer standout on shelves that fans will immediately recognise", said Unilever.
It will roll exclusively into Tesco from 17 August before launching into the wider grocery and convenience stores later in the year (rsp: £1/250g-£2/500g).
Unilever said the launch would tap the current barbecue season, as well as the increase in nights in and staycations this year.
It billed the coleslaw "the perfect side" for the summer season.
The launch follows a trio of licensed products from Unilever-owned Marmite, which paired up with M&S to roll out Marmite Cream Cheese, Marmite Butter and Marmite & Cheese Twist in March, following its highly publicised foray into peanut butter.