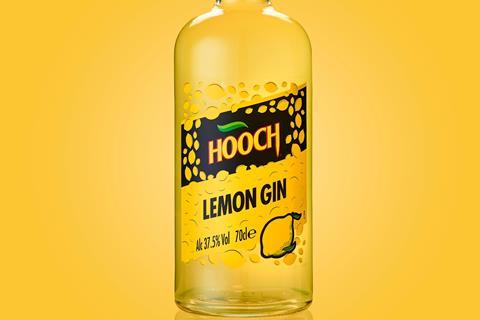 Hooch is moving into the spirits category.
The flamboyant RTD brand has unveiled a trio of 37.5% abv spirits: Lemon Gin, Mango & Lime Rum, and Raspberry & Lemon Gin.
They were "based on the classic Hooch alcopop", said the brand, offering a "fruity zing". Hooch owner Global Brands worked with a third party manufacturer to bring the drinks to market.
The opportunity in spirits was "sizeable", said Global Brands senior brand manager Charlie Leaver. "Following a boom in gin popularity over the past 10 years, consumers are beginning to shift towards sweeter, often fruit-flavoured, versions.
"Similarly flavoured rums are driving overall rum growth and are expected to be worth 2.5x the size of white rum by 2024."
Both flavoured gins and rums were growing in popularity particularly with younger shoppers, she added. "It makes sense to launch a range of straightforward flavoured spirits that shake off pretention and instead celebrate having a good time."
The brand was already developing further flavoured spirits to add to the range, she added
The drinks have rolled into Global Brands' DTC store, Good Time In (rsp: £20/70cl).
The move makes Hooch the latest in a series of non-spirits brands muscling in on the category with colourful, flavoured spin-offs.
Take Kopparberg, for instance, which has spent years steadily growing its presence in spirits, most recently launching a trio of flavoured vodkas.