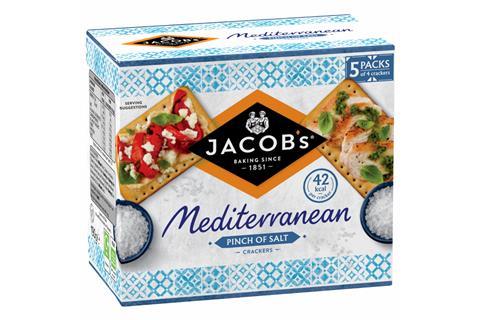 Jacob's is expanding its range with a duo of Mediterranean crackers.
Pinch of Salt and Tomato & Basil have rolled into Sainsbury's (rsp: £1.59/5x38g).
Billed as having a "light, melt-in-the-mouth" texture, each pack comprises five individually wrapped snack packs.
The crackers – which would "bring a taste of sunshine to British shoppers' lunches" – were easily portable and suitable for adding toppings or crumbling over salads, said Jacob's.
The savoury biscuits giant has also added a Red Leicester flavour to its Cheddars line-up.
As Red Leicester was already a popular flavour in its Mini Cheddars range, expanding it to full-sized crackers would "encourage even more shoppers to buy into the Jacob's brand", it said.
They have rolled into Tesco, Sainsbury's, Morrisons and Asda (rsp: £1.45/150g).
Jacob's had seen "hundreds of thousands of new shoppers" buy into the savoury biscuits category over recent years, said marketing director Leighton Wall.
With the move to hybrid working, the brand was "continuing to see shoppers break free from sandwiches and experiment with more exciting customisable lunch options", Wall added.
It comes after Jacob's this month added a duo of 'street food-inspired' snacks to its Mini Cheddars lineup in a bid to lure younger shoppers to the brand.