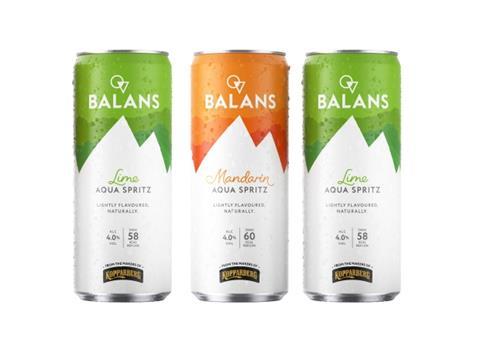 Fruit cider giant Kopparberg is diversifying outside of cider with a new alcohol-infused 'Aqua Spritz' sparkling water called Balans.
The 4% abv drink is made from a fermented apple juice base and contains no artificial flavours or sweeteners. It will launch in two flavours – mandarin and lime – initially into Asda from January 7 before a wider release further down the line (rsp: £1.70/250ml).
Containing fewer calories than the bulk of its competition, the NPD would tap the trend for lighter drinks, suggested Kopparberg head of marketing Rob Salvesen.
The lime variant contains 58 per can, while mandarin contains 60. In comparison Gordon's Gin & Slimline Tonic contains 75 calories per 250ml, while a can of Tesco's own-label Low-Calorie Vodka Lime & Lemonade contains 72.
The move makes Kopparberg the latest in a series of booze brands to break out of their traditional categories over past years – many, such as Echo Falls, have segued into spirits to chase higher margins.
"The Kopparberg brewery doesn't just produce Kopparberg cider – we also have expertise in various other categories including sparkling waters and spirits," said Salvesen.
It comes as the RTD market is booming, with Brits shunning traditional 'alcopop' style drinks in favour of canned premixes.
As revealed in The Grocer's Top Products 2018 report in December, sales across the RTD category surged a cool 13% (£31m) to £269m during the past year, on volumes up 11% [Nielsen 52 w/e 8 September 2018].