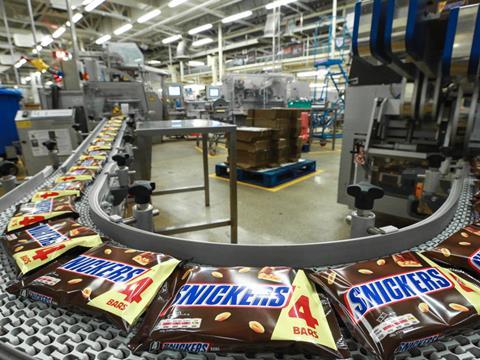 Low-sugar, high-protein versions of the classic Mars and Snickers bars will be released in 2019.

Newly merged Mars Wrigley Confectionery announced this week that the two new SKUs would be available from January. Mars 'More Protein' will contain 17.5g of sugar per bar, which is 40% less than the original, while Snickers 'More Protein' will contain 14.1g per bar, which is 30% less. Each will also contain 10g of protein.

That launch will be followed later in 2019 by a new low-calorie range of single-serve bars, said the brand owner, all containing less than 100kcal - more than half that of the original bars in some cases.
The range, which will span Mars, Snickers, Twix, Milky Way Crispy Rolls and Ripples, will "give consumers the opportunity to experience the great taste of their favourite brands in a smaller portion size."

"We will follow up with further innovation in this space," it added.
The planned series of NPD marks the latest in a long line of innovation since the appointment of UK general manager David Manzini in August 2017, with Skittles Chewies, Starburst Minis and Maltesers Truffles all launched in the past six months.
"We're really excited by what we call the portfolio of the future," said Manzini. "There is an appetite for novelty, for innovation, new tastes and products, which is higher than in the past. There's a lot of talk about disruption in the market, and I think we have a role to play in this by bringing in new brands and new disruption ourselves."

Formulating products that comply with the growing "health and wellness agenda" would be a key part," he added. "I do believe we have a role and responsibility to play, which is why we're bringing out this proposition and why we're going to continue working on reformulation of our products by reducing the quantity of sugar."