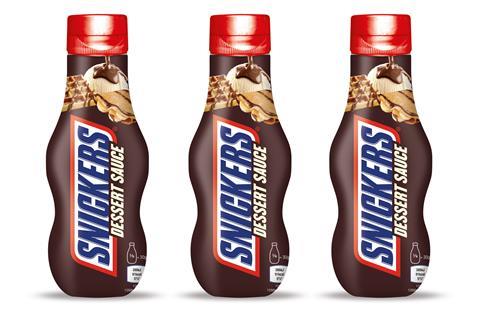 Mars is taking its Snickers brand into desserts.
The chocolate giant has unveiled a new Snickers Dessert Sauce designed to pair the "iconic Snickers flavour of chocolate, peanut and caramel" with dishes such as ice cream, crepes and waffles.
The ambient dessert category had been "a major driver in fuelling dessert sales, and we saw a great opportunity to introduce another of our much-loved brands into the category", said Mars Chocolate Drinks & Treats GM Michelle Frost.
The NPD will join Mars and Bounty's dessert sauces on shelves in Tesco from the end of May (rsp: £1.99).
It comes as The Grocer revealed last week Mars' plans to launch a trio of 'Triple Treat' bars under its Mars, Snickers and Bounty brands, which will be exempt from the government's coming clampdown on HFSS food and drink.
The bars will comprise date paste, raisins and peanuts drizzled in chocolate, and ring in at 80p per 40g bar – 57% more expensive than their standard counterparts.