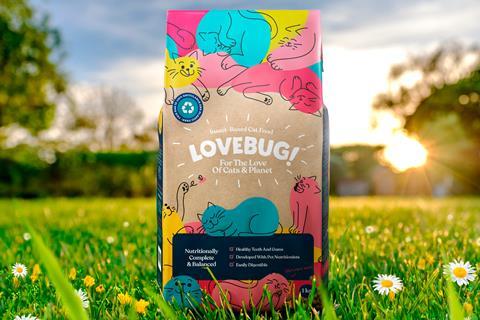 Mars Petcare has launched a new catfood brand made exclusively from insects.
Called Lovebug, it is a dry catfood made from black soldier fly larvae insect meal, as well as "essential nutrients such as amino acids" and a vegan coating.
It is the first 100% insect-based cat food to be launched by a major supplier in the UK (although it is manufactured in Germany).
Mars is billing the NPD, which was created in collaboration with sustainability business Futerra, as a significantly more sustainable option than competitor petcare brands, with a smaller environmental footprint.
The bugs used in the recipe were fed on surplus vegetables and "take up 80% less land than beef, per kilo of protein, meaning that land use is reduced", said Mars.
They were sourced from a farm powered solely by renewable energy "meaning Lovebug truly is a more sustainable protein source" it added.
The food was "great for feline teeth, easily digestible, and is balanced with a healthy mix of amino acids, and good fats and micronutrients, which cats need to thrive", it added.
"I've heard some people suggest that eating insects is gross. We think cats will disagree," said Deri Watkins, European president of Mars Pet Nutrition. "While we're making cats happy, we want to keep cat lovers happy too. With Lovebug, they won't have to worry about their environmental footprint."
The brand had "innovations on the way so pet parents will have more sustainable choices", he added.
Lovebug will roll out in fully recyclable 1kg bags over the coming weeks (rsp: £12.99).