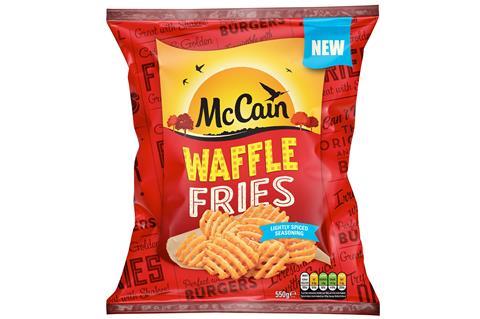 McCain has taken inspiration from the casual dining sector with its latest launch – Waffle Fries.
It said the waffle fries – which launched this month – were "a response to" the popularity of the product in the casual dining market, and would allow shoppers to recreate the restaurant experience at home.
Indeed, they bear a strong resemblance to the waffle fries popularised by restaurant chain Leon, which launched into Sainsbury's in May.
McCain's waffle fries will roll out at Co-op, Tesco, Morrisons and Farmfoods this month, priced at £1.99 for a 550g bag, while Leon's branded competitor was just 1p more at £2 for 550g at the time of writing.
McCain marketing director Mark Hodge said: "We know now more than ever, consumers are shopping for the at-home restaurant as families turn to replicating their favourite restaurant-style experiences at home."
He added McCain was committed to tapping these trends and providing "high-quality, delicious products that can be enjoyed at home".