Only a few years ago chocolate calendars were the go-to, but they just might not cut it anymore. Shelves are full of calendars boasting gin, tea and even pork scratchings – how can confectionery compete?
Advent calendars aren't what they used to be. Before chocolate manufacturers caught on to the market, there used to be nothing but a nativity-themed image behind each door and the excitement of counting down another day till Christmas. It was Cadbury who created a new secular tradition in the UK, launching its first chocolate advent calendar in 1971, and a rising number of food and drink brands have since discovered the benefits of creating their own.

While Christian advent calendars are increasingly hard to come by, there's now a whole plethora of products to be unveiled each day, from small bottles of gin for a daily tipple to a variety of cheeses. Even bakery chain Greggs launched an advent calendar last year with tear-off tokens for a daily treat in store.
So, what is enticing brands to create their own advent calendars? Is it the often extravagant mark-up, or are there longer-term benefits after all the doors have been opened? And how are chocolate manufacturers responding to this new influx of competition?

Catherine Forbes Taylor, tea buyer at Whittard, which launched its first tea-filled advent calendar last year believes "customers are looking for something more unique from their favourite brands and the opportunity to gift a more innovative and unusual product."

They also add luxury to the festive period, says Richard Duerr, sales and marketing director of jam-maker Duerr's. "This idea of everyday indulgence is already at the heart of the premium goods market, so more and more brands from different sectors beyond the conventional chocolate and confectionery are well placed to join this tradition." And with premium price tags, too.
"The market has turned to adult-friendly advent calendars. It's proving extremely popular with customers"
"The advent calendar market is certainly lucrative provided you offer something different and more premium than is currently available on the market," says Ruth Peyton, director of gifts at the Lanchester Group, which owns fine food hamper supplier Spicers of Hythe. "Products such as our Gin Advent Cracker offer something of a finer quality and are seen as more premium."

Priced at over £100, the Gin Advent Cracker is one of many alcohol-filled calendars this Christmas. Ocado noticed a 217% rise in consumers searching for "alcoholic advent calendars" in 2017, and it has risen by a further 60% this year. As a result, the online retailer has launched five new alcohol-filled advent calendars this Christmas, including a Ginvent Advent Calendar for £124.99. Gin sales were at a record high last Christmas, according to the Wine & Sprit Trade Association, with an extra 3.5 million bottles sold than the previous year. Mixer maker Fever-Tree, arguably one of the driving forces behind the spirit's popularity, has brought out its own selection of gin & tonic crackers, which will be available from the tonic brand's new pop-up stores at John Lewis, as well as its own "ultimate" gin & tonic advent calendar this year for £60, exclusively at Waitrose. And it's not just gin: Jack Daniels and Freixenet are among the brands who've jumped on the boozy advent calendar trend.

Unsurprisingly, retailers are drawn into the value these premium products have to offer. "The advent calendar market is huge now," says Robin Langton, senior beers, wine and spirits buyer at Iceland. "Gone are the days of consumers only looking for chocolate advent calendars for children. The market has turned to adult-friendly advent calendars. It's a great new tradition which is proving extremely popular with our customers."
Iceland launched a beer and wine calendar last year and has turned its attention this Christmas to gin as well, revealing its own artisan gin calendar for £58. "As the trend for artisan gins has only increased through 2018 we knew a gin advent calendar would be well received by our customers," says Langton. "We've included gin brands our shoppers might not have tried before, so it's a great way to introduce new brands and offer them a chance to test out new gins."

Aldi has also created a '12 Gins of Christmas' calendar for £34.99, but its wine calendar was the most hotly anticipated, selling out within minutes of going on sale at the beginning of November. The pyramid-shaped box features 24 mini bottles of red, white, rosé and fizz for £49.99, with brands such as JP Chenet and Calvet behind the doors.

And Morrisons' Black Friday deals include advent calendars filled with beer, prosecco and gin, the latter being the most expensive at £54.

These prices might be higher than the chocolate alternatives, but the widening portfolio for adults is putting advent calendars in high demand. "Since 2015, we've seen a 1,000% increase in our customers purchasing food and drink advent calendars," says Alexis Harrison, head of marketing at voucher website Wowcher. "Consumers are purchasing their advent calendars earlier in the year than ever before. Since last year we have seen a year-on-year increase of 363% in customers purchasing them in September."
"Advent calendars are a great way for brands to sustain relationships with their customers over the whole of December"
To draw these consumers in against a rising number of competitors, brands are having to get creative too. "Tea advent calendars may be becoming more common, but we're confident Newby's is both incredible value for money and the most aesthetically innovative," says Aneta Aslakhanova, global marketing director at Newby Teas, which has revealed a £58 House of Newby advent calendar this year decadently designed to look like the frontage of its five-storey headquarters in London.

There are new tea advent calendars on sale this year at a fraction of the price, though. Pukka Herbs' calendar featuring 24 herbals teas is only £9.99 and T2's impressive 'The Big Book of Secret Teas and Brews to Please' is £22, less than half the price of Newby's calendar. Twinings has also launched its first advent calendar this year for £21.99 "to inspire customers to try our broad range of premium loose leaf teas and herbal infusions in a relevant and engaging way", says premium gifting manager Jacqueline Makin.

Encouraging customers to try a wide range of products through these calendars could lead to a rise in sales in other products too, says Harrison of Wowcher. "Advent calendars are a great way for brands to sustain their relationships with customers over the entire month of December, ensuring they are front of mind in the lead up to Christmas. For food and drink brands, this is especially important to prompt consideration of their wider product range and can act as an effective upselling tool."
Nick Coleman, co-founder of pork snacks brand The Snaffling Pig Co which has already sold 40,000 advent calendars this year, says these products are a core part of the brand's "customer journey". "We hope that in December customers go on to purchase our multipacks or when they pop down to their local pub on Christmas Eve they treat themselves to a pack of Marvellous Maple from behind the bar."

Co-founder of gourmet sweets producer Candy Kittens, Edward Williams, hopes the effect lasts beyond December as well. "The calendar is a great showcase for our range and hopefully captures new customers that will later buy into our core range. It's a key piece in our brand strategy this year and we hope it will drive long-term growth."
Chocolate calendars
So with everything from pork scratchings to luxury tea on offer, how are chocolate brands combatting the raft of new advent rivals? "Confectionery is synonymous with the gift-giving traditions of Christmas," says Charlotte Parkes, brand manager for Christmas at Mondelez International, owner of Cadbury. Parkes says the 90g Dairy Milk calendar was "number one" last year [IRI w/e 25 December 2017] despite rising competition, and "as the leader at Christmas" Cadbury not only supports its core range but innovates "to help drive category growth".

"In 2017, we brought Cadbury Heroes to advent for the first time and it offered more than just a chocolate behind each door, with 24 unlockable AR festive selfie filters. The calendar had over 100,000 engagements and secured £2.5m in sales during the season."

The Cadbury Heroes calendar is back this year for only £5, alongside a new Cadbury Premier League advent calendar for the same price. Cadbury is also launching the first advent calendar from its luxury brand Green & Black's to "tap the growing premiumisation trend".

Handmade Belgian chocolate producer Choc on Choc is looking to do the same. Co-founder Flo Broughton says to meet consumer demand it has "released a collection of advent calendars that will cater to a range of different tastes with coffee, prosecco and gin flavour options". Meanwhile a cocoa-infused gin calendar helped to boost sales at Hotel Chocolat last year. The luxury chocolatier reportedly sold out of all of its advent calendars in 2017 and posted a 13% increase in sales for the 13 weeks to 31 December.

"The sector is booming," says Duerr of Duerr's. "But the appetite for something unexpected behind each door means brands need to up their game when it comes to the content." And chocolate brands such as Cadbury will need to be continually innovative to stay on top.
Seven new foodie advent calendars for 2018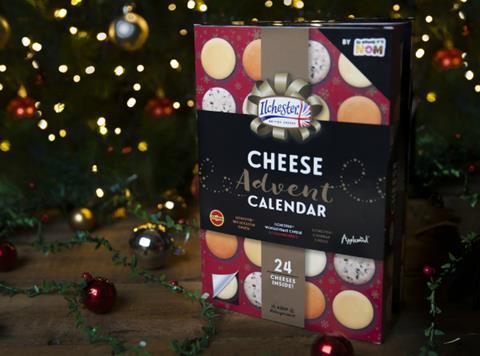 So Wrong It's Nom Cheese Advent Calendar
Rsp: £8-£10
Where? Asda, Booths, Co-op, Sainsbury's
Annem Hobson's cheese calendar caused a media frenzy when it launched last year in Asda. It went on to win a Grocer New Product Award and has won additional listings.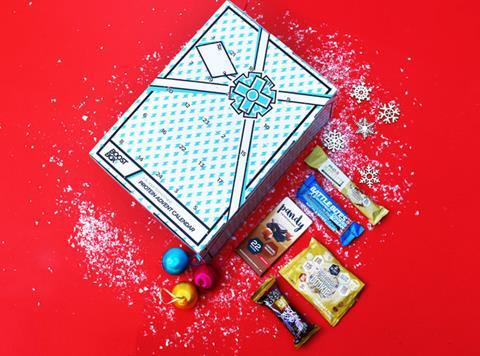 Boostbox Protein Advent Calendar
Rsp: £39.99
Where? Boostbox website
Boostbox's calendar is "new and improved" - filled with 25 protein-packed products to "fuel your festive fitness".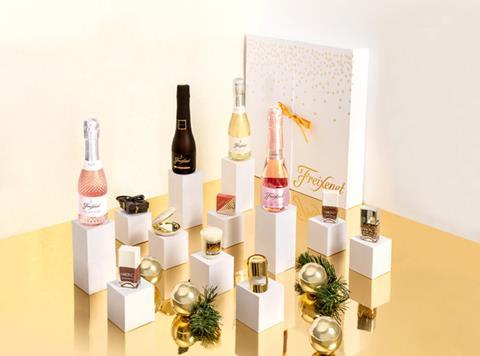 Freixenet Advent Calendar
Rsp: £75
Where? Online at The Fizz Boutique by Freixenet
"Perfect for fizz lovers," Freixenet's first calendar is part of a limited edition range of premium sparkling wines available through its seasonal online shop.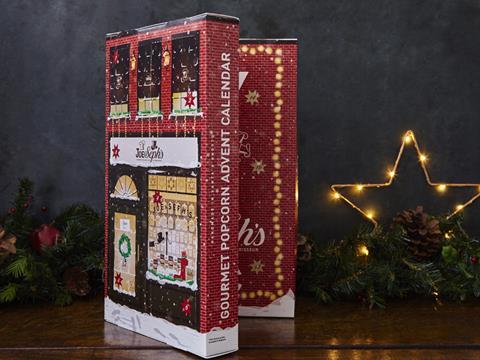 Joe & Seph's Popcorn Advent Calendar
Rsp: £25
Where? Joe & Seph's website, Harvey Nichols, Whole Foods, Selfridges
A pack of artisan popcorn sits behind each door, with flavours such as Banoffee Pie and Toffee Apple & Cinnamon, in this world first.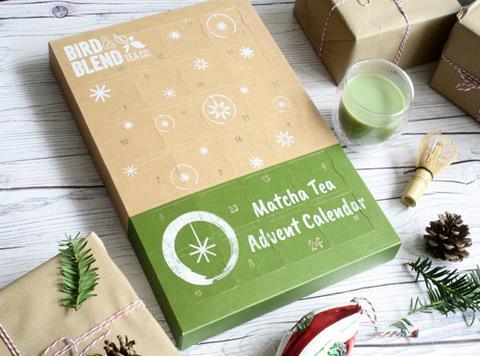 Bird & Blend Matcha Tea Advent Calendar
Rsp: £65
Where? Bird & Blend
There are loads of tea calendars but this matcha tea advent calendar is the "world's first", it says. Blends include Ice Cream and Salted Caramel, and Christmas flavours such as Mince Pie. A recipe using matcha is also revealed each day.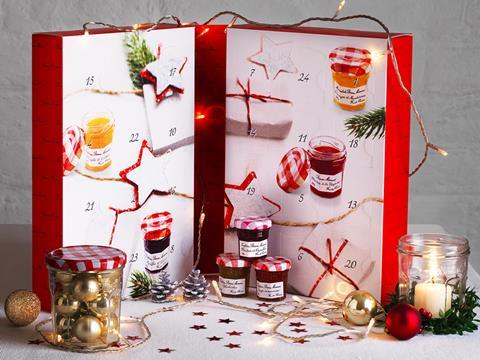 Bonne Maman Advent Calendar
Rsp: £23
Where? Costco
This jam-packed calendar is the first from the French conserve creator. The 23 mini jars of jams and marmalades include flavours not usually available in the UK such as Pear & Mirabelle Plum Jam.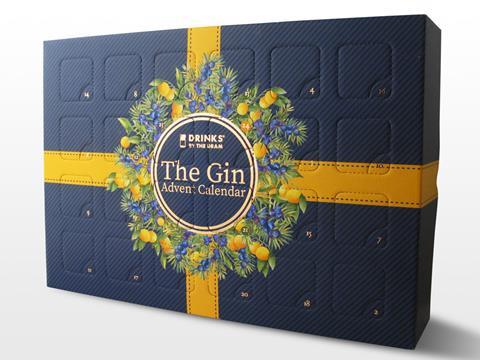 Drinks of the Dram Gin Advent Calendar
Rsp: £124.95
Where? Waitrose, Amazon, Ocado
One of a big range of boozy calendars by the sample specialists, this gin-themed option champions gin "hailing from Blighty".