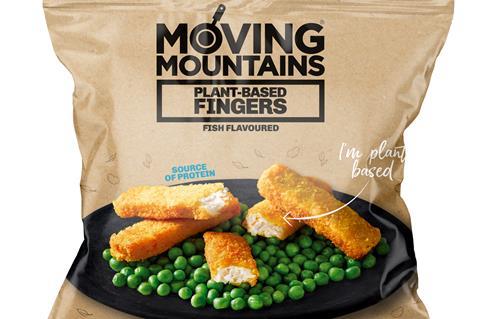 Plant-based pioneer Moving Mountains is moving into fish alternatives.
The brand, which rose to fame with its 'bleeding' plant-based burger, has unveiled a range of plant-based fingers it claims taste exactly like fish and mimic fish fingers' flaky texture (rsp: £3.60/300g).
"No one has really done this well yet," said founder Simeon Van der Molen. "It took us a full year of development to get the texture, the colour and everything as natural as possible."
The frozen fingers utilised a white soy never before seen on the UK market to achieve the colour and texture, he added. "It was developed by us and another large protein supplier who we work very closely with."
The innovation meant the products did not need whitening, he said.
"If you look at some other chicken products on the market, they use some really nasty ingredients to whiten soy. This is naturally white and all-European."
The brand opted to stick with soy rather than pea protein or other alternatives to help keep the price down and the product accessible, Van der Molen added.
"It opens us up to a whole new market and to children – we want them to be on children's menus and tables at dinnertime."
Each finger contains 10g of protein per 100g and 70 calories.
They will hit Waitrose from 27 December, to be followed by a wider retail rollout later in 2021.
Van der Molen said fish alternatives would be a key area of focus for Moving Mountains in future, with further NPD to come.
"So many people are coming out with plant-based burgers that the market has become so saturated. This is going to be the new frontier.
"It's going to be sensational: I can see this in school, big hospitality companies, universities and food to go outlets.
"Our tagline is there is not enough fish in the ocean. This is an area which brings a whole new refreshing ideology to plant-based."