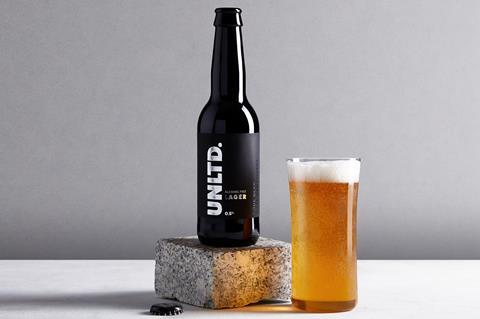 Unltd, a new non-alcoholic lager offering an extremely low calorie count and added functional benefits, has made its debut.
The lager is the first beer from newly founded brand The Alcohol Free Brewing Company, and rings in at a miniscule 23 calories per 330ml bottle. Comparatively, a bottle of Heineken 0.0 contains 69 calories, while the freshly launched Bud Zero contains 46 per 330ml can.
The drink is billed as having "light citrus aromas, a hint of honey and caramel, rounded off with a subtly bitter finish", said The Alcohol-Free Brewing Company, and was "designed to appeal to those looking for the familiarity of great tasting craft beer, but without the associated negative side effects".
The brand is also touting the lager's functional benefits: it contains added vitamin B12, which it claims "can help support red blood cell formation, a healthy nervous system, cardiovascular health, and helps maintain healthy hair, skin and nails". It is also vegan.
It was founded by Johnny Johnson, a former city worker. "I turned to no and low-alcohol beers to regain a focus and take charge of the time I would have otherwise spent recovering from the night before. As I'm sure other low & no converts have found, it was a revelation," he said.
"As a consumer, I have seen the category develop from its relative infancy, and since felt there was a gap in the market for an all-encompassing craft beer that tastes amazing, looks great and actively helps you enjoy a healthier lifestyle."
The beer is available directly from the brand online (£24.99/12x330ml).
Low and non-alcoholic drinks sales surged over the past year, growing 13.4% to £143m [Kantar 52 w/e 26 January 2020].
William Reed – the publisher of The Grocer – has launched an exhibition exclusively for the low and non-alcoholic drinks sector. For more information visit low2nobev.com