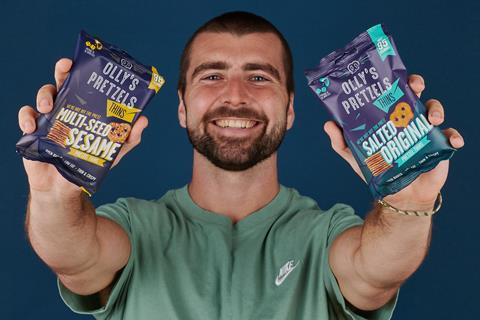 Olly's Olives is foraying into new categories under its new brand name Olly's.
The snacking startup has rolled out a duo of pretzel thins, with a range of nuts to follow next month.
The pretzel thins, called Olly's Pretzels, have launched in two flavours – Original Salted and Multi-seed Sesame – each containing less than 100 calories per pack and up to 80% less saturated fat than potato crisps, said Olly's (rsp: 99p/35g).
They hit Olly's new DTC e-commerce platform and Amazon this week.
The nuts, meanwhile, will roll out in four flavours – BBQ, Chilli & Lime, Salted and Spicy – from next month (rsp: £1.19-£2.79/35g-100g).
It comes as Olly's reported online sales growth of 800% during lockdown, having lost 40% of its monthly revenue "overnight" as the hospitality industry closed its doors, according to founder Olly Hiscocks.
It switched to selling its excess hospitality stock – which included bulk packs of nuts – on Amazon, which received an "incredible" response, he added.
The coronavirus pandemic had "fast-tracked" Olly's rebrand and NPD launches, added Hiscocks, in a bid to bolster sales.