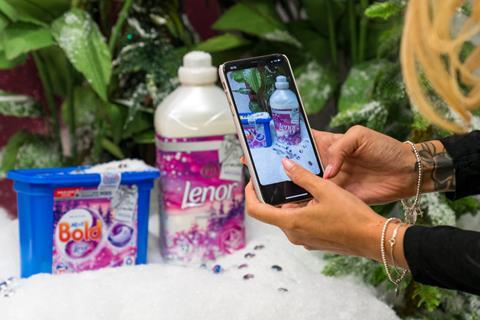 Procter & Gamble has teamed up with cleaning influencer Mrs Hinch to launch a limited-edition laundry duo for winter.
They are: Bold Rose Wonderland All-in-1 pods and Lenor Rose Wonderland fabric conditioner.
Both feature an exclusive Rose Wonderland fragrance developed by the the P&G brand team alongside Mrs Hinch, real name Sophie Hinchliffe, who was also involved in picking the name and pack-design, said P&G.
Hinchliffe said the new Rose Wonderland duo would be "the perfect dream team for this winter".
"I love a cosy winter night in, and I wanted this product to really bring that feeling to life," she added.
The Winter Edition 'Dream Team' hit Home Bargains last week and will roll into B&M, Poundland, Savers and The Range later this month (rsp: £3-5).
It follows P&G teaming up with the influencer earlier this year to launch its Spring Awakening laundry Dream Team, encouraging shoppers to combine the use of its Bold and Lenor products with the Spring Awakening scent.
Amy Hawking, P&G brand director, fabric enhancers UK&I, said the supplier had seen "huge appetite from consumers on social media" for its scent collections since the 'Dream Team' campaign kicked off at the beginning of the year.
"Having worked with Mrs Hinch on the launch of the campaign, it's been very exciting to collaborate with her on a limited-edition range. Rose Wonderland is the newest scent collection in our laundry Dream Team portfolio and we are very encouraged by the sell-through that we've seen in just a few days," she added.